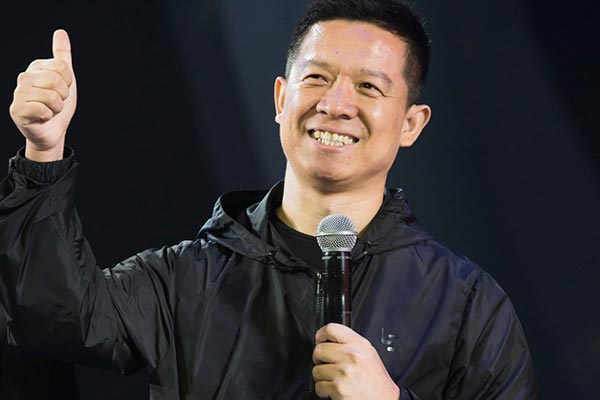 Jia Yueting, chief executive officer of LeEco.
Chinese internet major LeEco announced on Tuesday that it has raised $1.08 billion to bankroll the development of its electric sports car, a critical step toward the company's ambitious goal of producing cars that are more advanced than Tesla Motors Inc's.
The Beijing-based company said in a statement that it had completed the initial fundraising round for its so-called Le Supercar-an internet-savvy electric vehicle-with investments from several Chinese companies, including Legend Holdings Corp, Yingda Capital Management Co and China Minsheng Trust.
Jia Yueting, founder and chief executive officer of LeEco, said in the statement the completion of the fundraising round was a "milestone" for the development of Le Supercar and the amount of the secured funding was record-breaking in the international automobile industry.
Founded in 2004, LeEco started as a video-streaming service provider akin to Netflix Inc, but it rapidly grew into a heavyweight with a presence in smartphones, TVs and most recently electronic cars.
The success of the fundraising came a month after LeEco announced it is to invest 20 billion yuan ($3.02 billion) to build an auto park in Zhejiang province, a broad plan including an electric-car plant with annual capacity of 400,000 units.
In a recent interview with China Daily, Jia said the plant could be put into operation as early as in Spring 2017 and he said the company's electric cars were expected to go into mass production within three years.
The success of the initial fundraising round was an important step for LeEco to turn its ambition into products, said Zhang Yu, managing director of Automotive Foresight Co.
"The $1.08 billion can support the production of tens of thousands units of cars a year," he estimated.
However, Le Supercar could still face a bumpy road ahead due to the costly investment requirement to build a national wide dealership network to sell cars and brand awareness, to lure picky Chinese buyers, he said.
LeEco is among the rising number of Chinese internet giants that are betting on the future of internet-connected cars and jumping into the automobile market in order to build something big from scratch.
According to a Tuesday report from the online news portal run by Tencent, LeEco aims to make its electric car entity a public company by the end of 2022, in a business proposal pitched to potential investors.
The proposal also said that a total of $7.9 billion was expected to be invested in the development and production of Le Supercar between 2016 and 2022.