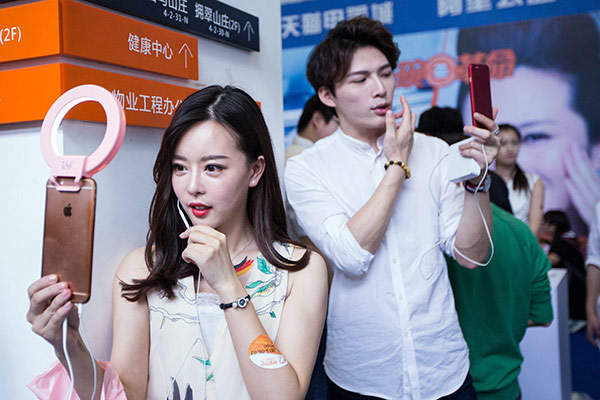 A woman and a man in a commercial live streaming event help sell essentials in Hangzhou, Zhejiang province. [Photo/China Daily]
US artist Andy Warhol once said that "everybody would be famous for fifteen minutes", and with the boom in mobile internet in China, it seems it is more true today than ever before.
Live streaming, believed as a new tail wind to boost the internet industry, actually carries potential bubbles which pose investment risks and challenge the capital orders, said People's Daily.
Being called "fragmented entertainment" by an industrial insider, the massive growth market scales, user base and cashability of the sector have lured a wide range of attention from investors.
However, the newspaper said that since the core users who normally come from second or third tier cities are low-income groups and young generations that lack economic strength, they are not be able to afford the virtual gifts that are given to internet anchors and cost up to thousands of yuan each.
Currently, the online anchors and the companies behind the platforms are relying on users' subscriptions and virtual gifts to turn profit, according to a 3:7 pro ratio.
The report said that the costly online gifts are no match with the income of the major users who presented most on the platforms.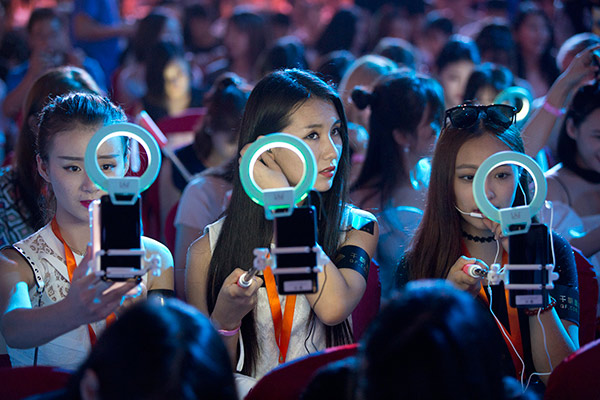 Cybercelebrities announce the launch of a new live-streaming app in Beijing, July 27, 2016. [Photo/China Daily]
"The figures of the subscribers and viewers shown on some the platforms are suspected of fraud as zombie followers and fake live commenting, or 'bullet screen', are available for trading on e-commerce websites," the report said.
According to the report, some of the well-welcomed internet anchors or cewebrities, are backed by agencies and the latter will help their future online celebrities get a buzz by faking an eye-catching follower numbers or hot topics.
Meanwhile, the high operating costs for the live streaming platforms in either data storage or broadband transmission, and also need for investments, have all pushed the companies to turn a blind eye to the misbehaviors in the industry.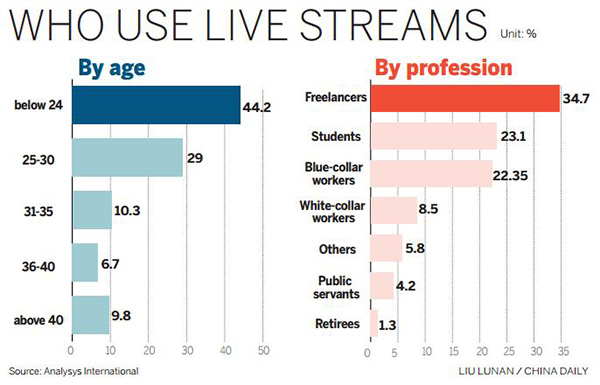 According to the newspaper, the industry sprang up back in 2013, with an estimated amount of investment reaching 170 million yuan ($25.6 million). Last year, the figure rose to 2.37 billion yuan, up 300 percent year-on-year.
"New apps were being launched every three hours since May 2016," said the report.
Domestic statistics analysis company iiMedia Research said that as of 2015, nearly 200 platforms provide live streaming services through the internet, accounting for 9 billion yuan market scale.
The users have reached to 200 million. The overall peak concurrent users (PCU) on the major vendors, half of them who provide entertainment content, are nearly 4 million.
Chinese internet giants' BAT, referring as Tencent, Baidu and Alibaba, have all marched into the segment either by launching their own platforms or by investing in existing players.