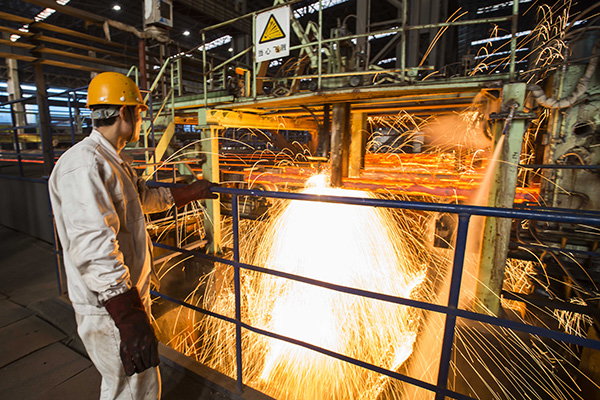 A worker at a steel company in Lianyungang, Jiangsu province, in Jan 2015.[Photo/China Daily]
Local governments need to enhance efforts to cut overcapacity in order to meet reduction targets, head of the nation's top economic regulator said on Thursday.
"Local governments should quicken the pace in order to fulfill the targets of cutting overcapacity set for this year,"said Xu Shaoshi, minister of the National Development and Reform Commission (NDRC), adding that despite much progress in some regions, notable imbalances exist.
Data from the commission show that in some provinces with many steel and cement factories, including Hebei, Liaoning, Jiangsu and Jiangxi province, witnessed rather slow progress, where they only completed around 10 to 35 percent of the yearly target.
Despite setting up ambitious goals, Shandong, Henan, Yunnan and Gansu provinces have yet to achieve any progress.
China cut 21.67 million tons of capacity in the steel sector in the first seven months of the year, which equals around 47 percent of yearly target, according to Vice-Minister of Industry and Information Technology Feng Fei.
Earlier data show that the nation only accomplished 38 percent by the end of July, meaning rather heavy workloads in the second half, Xu added.
Xu said the market mechanism should better play its role, at the time when local protectionism remains one of key challenges to finish the task.
The State Council, China's cabinet, on Wednesday called for "all-out efforts" to meet overcapacity reduction targets in the steel and coal industries, at the executive meeting presided over by Premier Li Keqiang.
China plans to cut steel production capacity by 45 million tons and in coal capacity by over 250 million tons by the end of this year.