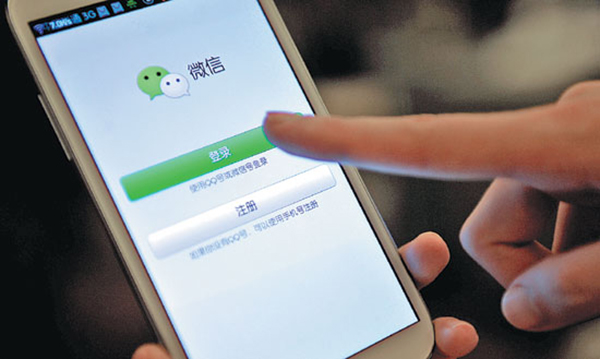 A user logs on to the WeChat service on a smartphone. [Photo/Xinhua]
China's social media giant WeChat is said to plan to ride the wave of the live streaming industry, according to China's business newspaper the Economic Observer.
The newspaper quoted unnamed sources who said that WeChat, part of Tencent Holdings Limited, is planning to enter the booming live streaming industry.
Live streaming is the latest darling of China's technology and media sector. People can watch -- often on their handsets -- celebrities and average citizens live broadcast everything from games and gigs to everyday lives. Research said that the users of live stream apps reached 200 million, roughly one seventh of China's entire population and one third of China's online population. The size of the market is estimated to be between 9 billion yuan ($1.37 billion) and 15 billion yuan, and is projected to grow to 100 billion yuan by 2020.
Technology juggernauts have already dived into the flourishing industry, including Tencent, which not only developed its own live streaming apps (there are six of them) but also invested in others. The move by WeChat, a key part of the company, is said to be "the last mainstream social media platform" do so.
Insiders say that the various departments within Tencent have different focuses on live streaming. Some specialize in live broadcasting sports games while some want to tap into the social networking function, hence the different apps under the same company.
Despite the current craze, questions surrounding the monetization of live streaming apps have emerged, leaving the prospect of the industry up in the air.