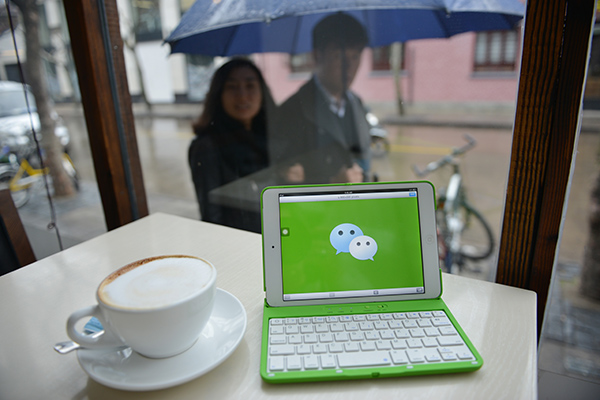 The logo of instant messaging app WeChat on a mobile device. [Photo/Agencies]
BlackBerry Ltd is following the example of hugely popular Chinese app WeChat with a plan to turn its BBM messaging application into a one-stop shop for watching video, getting celebrity updates and shopping online.
Seeking to boost its software and services business as handset sales continue to decline, BlackBerry signed a deal with PT Elang Mahkota Teknologi Tbk, one of Indonesia's top media companies, to bring its video content onto BBM and begin developing new applications and services for the messaging app. Indonesia is a bastion of BlackBerry popularity, with 60 million of its roughly 90 million worldwide BBM users living in the archipelago nation. The BBM software isn't exclusive to BlackBerry handsets and can run on Android to iOS.
"We want to make exactly that (WeChat) type of offering in Indonesia but we also want to make it global," James Mackey, BlackBerry's head of corporate development, said. BlackBerry will get a fee from the Indonesian company known as Emtek for each user on BBM it gets to show its content to. The deal initially focuses on Indonesia but has the potential to expand to other countries, Mackey said.
BlackBerry Chief Executive Officer John Chen is working to find ways to squeeze extra revenue out of the assets he has at his disposal as falling phone sales pull down revenue faster than software growth can offset it. BBM has maintained a foothold for the company in Indonesia where consumers use the app as one of their main forms of communication.