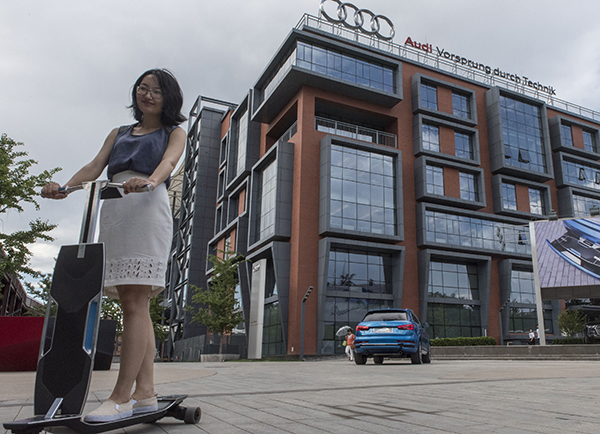 Ning Meng, a member of Audi AG's research and development team, poses for a photograph with a prototype of an electrically powered longboard and scooter hybrid outside the company's China design center in Beijing's 798 art district, a sprawl of old military electronics facilities taken over in the early 2000s by the capital's booming contemporary art scene and now being invaded by design companies and entrepreneurs. [Photo/Agencies]
Audi finds key to new-age design in Beijing's art district
"This is the most creative place I've ever worked," said Saad Metz, Audi AG's head of research and development in Beijing, looking out of his ceiling-to-floor window at a landscape of metal pipes and old factories. "Here we get inspired by artists every day."
The German automaker set up its China design center in Beijing's 798 art district, a sprawl of old military electronics facilities taken over in the early 2000s by the capital's booming contemporary art scene and now being invaded by design companies and entrepreneurs.
In the narrow lanes of Bauhaus-style buildings dotted with sculptures of caged dinosaurs, a screaming red man, or a pack of wolves, young designers and engineers are challenging the idea that China can only copy.
"'Made in China' was our parents' generation," said Tara Wang, 34, a curator at Tokyo Gallery + Beijing Tokyo Art Projects, one of the first galleries to open in 798 back in 2002 that still has "cultural revolution (1966-76)" slogans on its ceiling. "Our generation is starting to create."
President Xi Jinping and Premier Li Keqiang bet such innovation will deliver new growth drivers. Two Chinese names were among the world's 100 most valuable brands in 2015, according to Interbrand-telecoms equipment maker Huawei Technologies Co and Lenovo Group Ltd.
Zone 798 is becoming part of the front line in the endeavor to change all that. Located in a former military-industrial area built in the 1950s in cooperation with former East Germany, it's the perfect place for Audi's designers and engineers-Metz calls them "trend scouts"-to keep abreast of China's emergence as an innovative force.
At Audi's 7,600-square meter research and development office, staff are influencing Audi production worldwide, from the touchpads for navigation systems to the color of its cars.
And trying to figure out how to beat the Beijing traffic.
"There was one case where I was stuck in traffic not far from the office and we hardly moved for 20 to 30 minutes," said Ning Meng, 31, a designer from Shenyang in northeastern China. "There was a taxi in front of me and at one point he turned off his engine and started cleaning his car."
Her solution: a souped-up electric skateboard that's linked to an app. The software warns her of impending gridlock and guides her to the nearest car park, where she can switch to the longboard, stowed in the car's bumper.
Audi's offices also produced a touchpad for inputting Chinese and other languages into a navigation system that's now being used internationally.
Meanwhile, color and trim designer Zheng Yi, 27, has been working on Hainan Blue, Audi's first global auto tint to be developed in China.
"We needed a color that was young and energetic," said the Tsinghua University graduate in transportation industrial design. "We look at fashion shows, at furniture, at industrial products and get inspiration from all the design-related trends."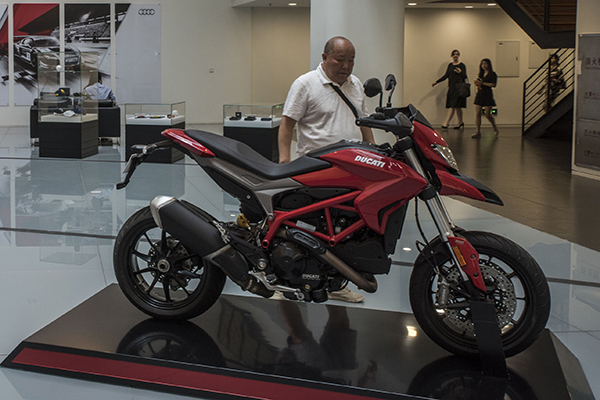 A visitor looks at a Ducati Motor Holding SpA motorcycle exhibited at the Audi's China design center in the 798 art district. [Photo/Agencies]

Colony of artists
Zheng's passion for paint fits well with 798, a colony of artists, many evicted from elsewhere in the capital, that became the epicenter of one of the biggest contemporary art booms in history.
The zone began to emerge back in 2002, when artists Huang Rui, photographer Xu Yong and Robert Bernell, a Texan arts book publisher, moved into the area, officially called Dashanzi. More painters and sculptors followed, then came the galleries, cafes, museums and design studios.
That largely organic growth, the avante-garde nature of much of the work, and a fairly hands-off approach from the government may explain why the area has become a center of creativity.
"798 is in miniature a result of the marketization of China's art sector," said Wang Yanling, chairman of Beijing 798 Creative Industry Investment Co, the State-owned enterprise set up to run the district. "Chinese artists' works enjoy a high level of liberty and are priced by the market. Control is non-existent."
Thus, 798 is certainly maintaining its ability to mix creative talent with commercial success.
The zone hosts the annual Beijing Design Week and tenants range from China Contemporary gallery and the Ullens Center for Contemporary Art to outlets of interior designers Song Tao and Patrick Jiang.
Bernell, who closed his bookstore in the area in 2012 and now runs the Timezone8 restaurant, says the government has helped keep rents in the area affordable for artists and designers.
"Probably for the first time in the history of mankind the government intervened on behalf of art, contemporary art, and put road blocks to commercialization," says Bernell, 54, who started collecting Chinese art in his 20s. "There is a quota of enterprises that can be in 798 and the absolute priority in terms of rent control is for art-related galleries, studios, auction houses, anything to do with art."
Signs of China's growing confidence in innovation are visible elsewhere in the country, from the software incubators of Shenzhen to the research institutes of companies like Tencent Holdings Ltd. Tencent's WeChat messaging app, Alibaba Group Holding Ltd's online commerce platform and Lenovo's computers are all world-class products.
The Global Innovation Index 2015 put China among a group of middle-income countries that are outperforming their peers.
There are barriers still to be overcome. The nation's education system is still largely dominated by rote learning, strict discipline and cramming, often constraining the kind of innovative thinking needed to create breakthrough products such as iPhones or Facebook.