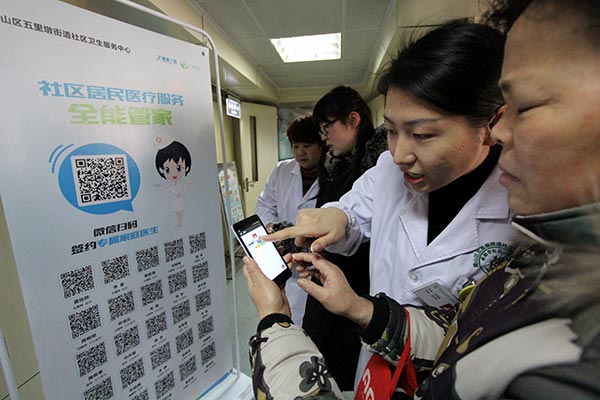 Medical authorities in Hefei, capital of Anhui province, launch an interactive medical service on the WeChat platform at a local community. The new service will help local residents make appointments or consultations with doctors on their smartphones. CHEN SANHU / FOR CHINA DAILY

The market is currently dominated by Alibaba's DingTalk, thanks to first-mover advantage
WeChat, China's major social networking application owned by Tencent Holdings Ltd, rolled out on Monday a separate app targeting enterprise users.
The launch of the app, which is designed for work-related communication, puts the Hong Kong-listed Tencent in direct competition with its archrival Alibaba Group Holding Ltd in China's potentially huge enterprise software market.
The app, named Qiye Weixin or Enterprise WeChat in English, offers a basic online chatting function just like the one offered on WeChat. It also provides professional features including clocking-in and clocking-out functions as well as a leave request option to allow users to do all the office-related work via their smartphones.
Pony Ma, chief executive officer of Tencent, said that Enterprise WeChat is an important product for the company to extend its reach to business users. "We hope the product can help companies boost work efficiency," he said.
Shenzhen-based Tencent said in a statement that the app is suitable for enterprises and organizations of different sizes, ranging from small and micro businesses with dozens of people to big corporations employing tens of thousands.
The first edition of the app is compatible with iOS, Android, Windows and Mac operating systems and is free to use.
Ma Shicong, an analyst at the Beijing-based internet consultancy Analysys International, said that with the number of individual users exceeding 650 million, WeChat is keen to expand its market to enterprise users.
"The enterprise software market is still taking shape. The sooner Tencent jumps in to the market, the more time it will have to build its reputation and cultivate users," she said.
There are no official statistics about the market size, but industry observers said that DingTalk, which was launched by Alibaba in February 2015, is the current market leader thanks to its first-mover advantage.
The latest data showed that DingTalk, which targets small and medium-sized businesses, has gained more than 1 million enterprise users.
But Ma from Analysys International said that there are opportunities for Enterprise WeChat to catch up as Tencent already laid a foundation by introducing its first enterprise-use instant messaging tool RTX in 2003 and other enterprise services.
"It is not difficult for cash-thirsty small enterprises to use such apps because the cost for them to develop their own office automation systems is high. But convincing deep-pocketed companies to use apps provided by third-party developers remains a challenge due to concerns over information security," she said.