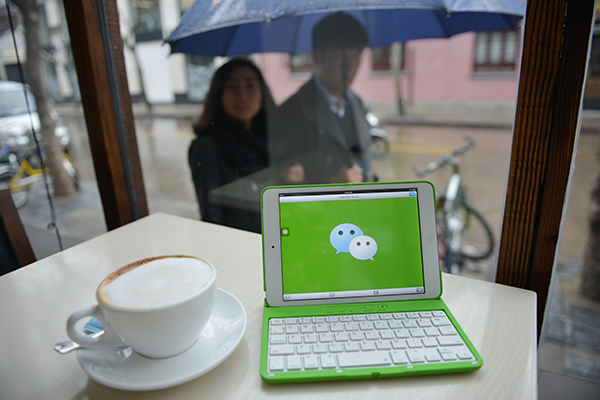 The logo of instant messaging app WeChat on a mobile device. [Photo/Agencies]
WeChat, which connects more than half a billion individual users via the mobile messaging service, is launching a separate application for enterprise clients.
The app, named Qiye Weixin or Enterprise WeChat in English, is under beta testing and is expected to be rolled out in the next couple of months.
WeChat, owned by Internet giant Tencent Holdings Ltd, said in a statement on Thursday that the enterprise messaging service is designed for work-related communication.
"With WeChat being widely adopted in everyday life, more people have been discussing work-related subjects on WeChat with colleagues when they are off-work," it said.
"While some enjoy it, some others find it a burden because WeChat mixes up their personal life and work," said the Shenzhen-based company, adding the new enterprise service will help people enjoy a better work-life balance.
It's Tencent's latest move to tap into China's trillion-yuan enterprise software service market, analysts said.
Ji Yanhang, with the Beijing-based Internet consultancy Analysys International, said that with the number of individual users exceeding 650 million, WeChat is keen to expand its market to enterprise users.
"Several companies have already jumped into the enterprise instant messaging market, because they find it as an important gateway to access clients, who may be interested in digitalizing their entire business operational process, not only communication, but also human resources management and enterprise resources planning," he said.
Tencent, which built its business empire on developing social networking tools, introduced its first enterprise-used instant messaging tool RTX in 2003. In 2014, it added an enterprise account inside WeChat to help employers better connect and collaborate.
But in terms of launching a separate messaging app for enterprise users, its rival Alibaba Group Holding Ltd enjoys some first-mover advantage by introducing DingTalk in February 2015. The app, which targets small and medium-sized businesses, has gained more than 1 million enterprise users, said Alibaba in its latest financial report at the end of January.
Despite that, given WeChat's ruling position in China's social media world, the new app could soon catch up. Ji of Analysys International said the enterprise messaging app market is still taking shape.
"Even if WeChat can only turn a small part of its individual users into its enterprise service users, that would make a decent market share," he said.
Chen Jia, a white-collar worker in Beijing, said she desperately wants some replacement for WeChat as the app has been dominating her life. "All my friends, families, colleagues, classmates are connected with me via WeChat. It is such chaos online everyday," she said.
"But still I don't have the nerve to not use it because when something important happens, people still contact you on WeChat," said the 28-year-old.
According to the China Social Media Impact 2015 survey conducted by Kantar Group, an increasing number of Chinese said social media had less positive influence in their lives while 15 percent said it had, in fact, made their lives worse.