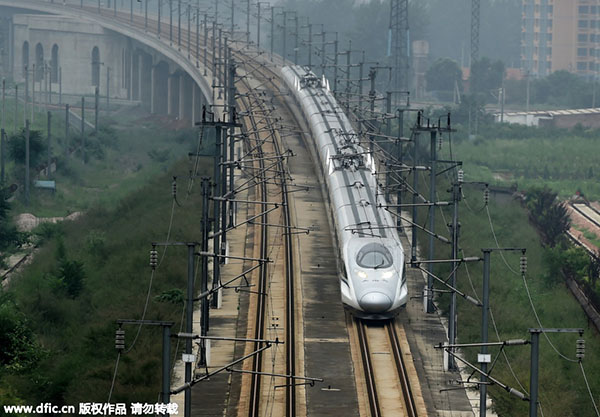 A train pulls into a station in Luoyang city, Henan province, June 30, 2015. [Photo / IC]
China Railway Corp Group, the country's railway service provider, which is fighting a dramatic slump in profits, plans to build a number of rail logistics centers in Anhui and Shandong provinces to support transportation of household appliances and diversify its business.
The new logistics centers are expected to be established in the home appliances-producing areas such as Hefei and Wuhu in Anhui, after CRC clinched a deal with Qingdao-based home appliances maker Haier Group, according to CRC.
Under the deal, CRC will provide designated freight trains and tailored multi-modal logistics services for Haier to help the company with domestic and international rail deliveries.
The railway giant is also in talks with Hisense Group, another Qingdao-based home appliances manufacturer.
CRC reported that its sales totaled 657.77 billion yuan ($101.49 billion) between January and September last year, with its profit in the period down 174.11 percent year-on-year. The company said its losses were mainly caused by fast-growing road transportation and an overall decline in rail goods transportation.
"In the past, we mainly transported our products by road, but through cooperation with CRC, we will connect road and railway transportation as a whole, and provide consumers with integrated delivery services," said Zhou Yunjie, rotating president of Haier.
Zhou added Haier hopes to analyze how to provide better logistics service with CRC, including computerization of transportation and warehouse management, as well as mechanization.
The cooperation goes further than mere collaboration between transport and manufacturing enterprises, but focuses on the users' experience, according to Haier.
Zhang Yanbin, assistant director of All View Cloud, a Beijing-based consultancy specializing in home appliances, said: "Haier could reduce its logistics costs and transport its goods to destinations more quickly by virtue of CRC's transportation advantages."
Zhao Jian, a professor of rail logistics at Beijing Jiaotong University, said CRC's move was to a certain extent forced by financial losses in the past few years, as well as by efforts to reform State-owned enterprises to ensure stable growth in a slowing economy.
Eager to enhance their earning abilities, China National Petroleum Corp and China National Cereals, Oils and Foodstuffs Corp signed a partnership agreement last month to strengthen sales cooperation.
Under the deal, the two companies will cooperate closely in products, marketing, membership communication and public welfare as well as in a new business based on the principle of mutually beneficial resource-sharing.
Xiao Yaqing, head of the State-owned Assets Supervision and Administration Commission, said that SOEs should face the pressures of a slowing economy and find new ways of generating profit. "Reforms of SOEs will mainly be pushed forward through diversified business development, mergers and acquisitions, instead of bankruptcies, and protecting the interests of employees will be a major task in the next step of reform," he said.
China Merchants Group, a State-owned conglomerate based in Hong Kong, acquired Sinotrans & CSC Holdings Co, the nation's second-largest shipping company by fleet size last month, in a bid to optimize shipping and logistics resources, as well as enhancing the country's energy security.