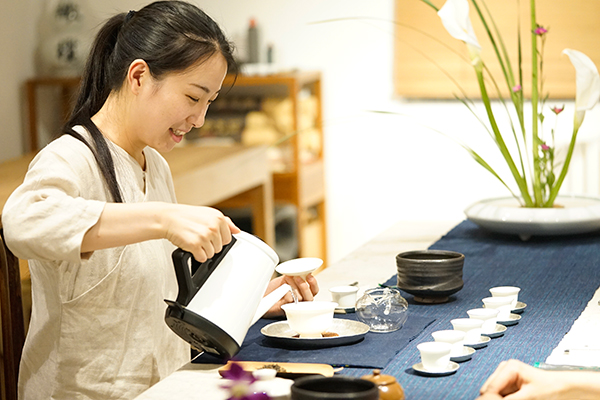 An employee of Ten Plus, a tea cafe in Beijing, shows her skill at making Chinese tea. [Photo provided to China Daily]
Casual, cozy spaces spring up to convert youth into Chinese beverage consumers
This summer, Chinese youngsters are rediscovering their culture's time-honored tradition of tea-drinking as a fashionable pastime, as a rising number of businesses modernize the way the beverage is consumed.
Casual spaces for tea lovers to gather and savor the beverage are mushrooming
Last June, health food restaurant chain Element Fresh launched Vital Tea, a 'tea cafe', positioning it as an alternative to coffee shops and tea houses.
"Everybody loves the café experience, but not everybody likes coffee-certainly not every day," said Frank Rasche, chief executive of Element Fresh.
The company believes tea consumption outside home has been dominated by either expensive and formal tea houses or cheap and convenient ready-to-drink teas that lack the quality of freshly brewed leaves.
To remedy the situation, the company opened the chain so that tea aficionados could enjoy freshly brewed concoctions in a relaxing environment.
Vital Tea offers a wide selection of fresh herbal and flower teas, tea lattes and carbonated iced teas.
Although the company refused to disclose annual revenue figures, it noted that in less than a year, it was able to open seven stores in Shanghai.
Its expansion plans include 10 new stores in the city this year and several hundred stores in other cities across the country.
"There is no reason why the size of this category in the long term should be less than that of the coffee shop (category)," said Echo Shi, brand manager of Vital Tea.
The tea café segment is expected to grow significantly in coming years, supported by a strong tea-drinking culture and new lifestyle habits of the younger generation.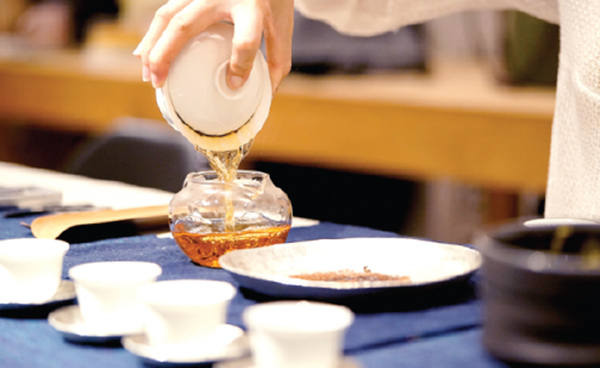 A server demonstrates the special way of pouring freshly brewed Chinese tea. [Photo provided to China Daily]
The China International Tea Cultural Institute estimates there were more than 126,000 tea shops in China last year.
"In the past, Chinese consumers usually had tea at home or office," said Neil Wang, global partner and China president of international consultancy Frost and Sullivan. "Nowadays, a growing number of consumers, particularly young people, prefer to gather and chat over tea at exclusive tea shops."
Entrepeneur Li Hui and his business partner Pu Pengtao co-founded Ten Plus (Shiyiqu in pinyin), a large, quiet tea café in Hepingxiqiao in eastern Beijing where customers relax, unwind and sip varieties of Chinese teas.
The tea café is decorated with contemporary furniture made by local artists drawing inspiration from traditional Chinese elements. It is an effort to modernize the Chinese tea-drinking ritual.
"We started the business to attract the young generation, to get them involved in this traditional culture, because, nowadays, young people don't like old things such as tea," said Li.
The salon organizes evening tea-tasting parties three times a week. For 50 yuan (around $7.50), customers get the chance to enjoy five to six types of tea. What's more, while at it, they can buy tea-related accessories and books, attend calligraphy classes and take guzheng lessons.
The business is progressing well, and revenue grew 30 percent last year, said Li.
The tea industry revenue is projected to grow at an annualized 7.1 percent to $27.5 billion in 2020, according to business intelligence firm IBIS World.
Tea consumption in China-2 million tons in 2015-is expected to increase 5 to 8 percent on average annually till 2020, according to Frost and Sullivan.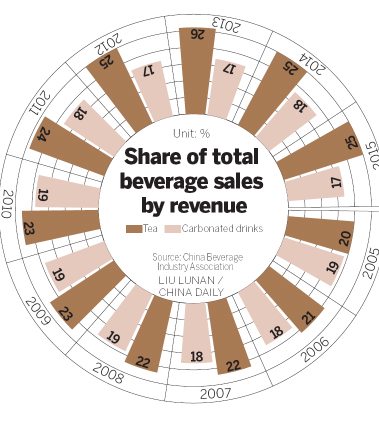 To make the most of the tea craze, Martin Papp, a US national, set up Papp's Tea in April last year. The Beijing-based company specializes in tea-related services. Its first venture was a contemporary tea café for urbanites looking for new drink experiences.
"We wanted to be fun, hip and energetic and show people that even though tea is an ancient drink, it has the potential to be the coolest, most fashionable drink," said Papp.
His idea consisted in serving fun tea blends and to offer rare product varieties to adventure-minded Chinese consumers.
To his surprise, he soon had to reassess his business model to become a supplier of loose tea leaves and teabags to local food enterprises that shared his dream of adopting a modern approach to the drink.
"Our main purpose now is to support other local food-and-beverage brands that want to have a good selection of tea blends," said Papp.
For him, it is only a matter of time before F&B entrepreneurs realize the need to offer casual, comfortable spaces for tea aficionados, just as the new-age coffee shops do.
The company also trains clients so that they could also create their own original and contemporary tea products, including alcoholic tea cocktails.
The tea distributor has already secured a dozen supply contracts from restaurants and cafés in China, including health food restaurant chain Moka Bros and Japanese style diner Hatsune.
The deals have enabled Papp's Tea to generate monthly revenues of 200,000 yuan, and sales are gradually increasing, he said.