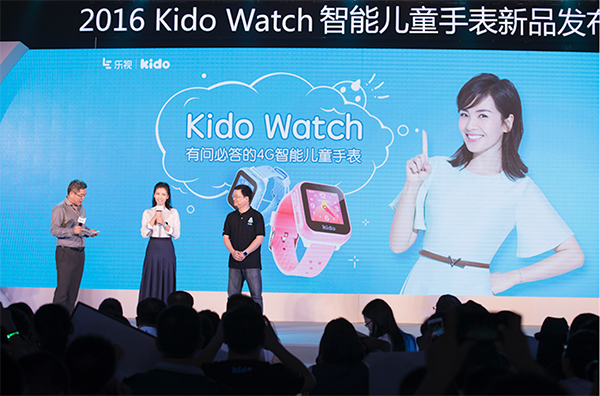 Liu Tao (middle), a famous entertainment star in China, speaks at the launching ceremony of Kido Watch in Beijing on June 30, 2016. [Photo provided to chinadaily.com.cn]
Beijing-based technology company LeEco Holdings Co Ltd unveiled a new smart watch for children on Thursday.
"LeEco has been making efforts to offer comprehensive education solutions to children with its rich resources in video and platform," said Zhang Zhiwei, president of the company's O2O platform.
The new product, named Kido Watch, is equipped with a quad core Snapdragon CPU and specialized green smart operating system, Kido OS, which fully tackles the security concerns of parents.
Priced at 698 yuan, Kido Watch supports 4G network and is available to all carriers.
As a tailored product for children, the retina display is quite considerable to protect their eyesight and the intelligent robot with massive contents provides interaction and accompany to them.
"China has a huge market in smart devices for children," said Xiao Jing, research manager of IDC China. "Smart watch tops sales among all."
"We predict continuous growth in consumption of children smart watch this year and the shipment would amount to over 10 million units, double the number of last year," Xiao added.
"As large manufacturers marched into the children smart watch sector, the market may face segmentation according to different age groups," said Xiao.