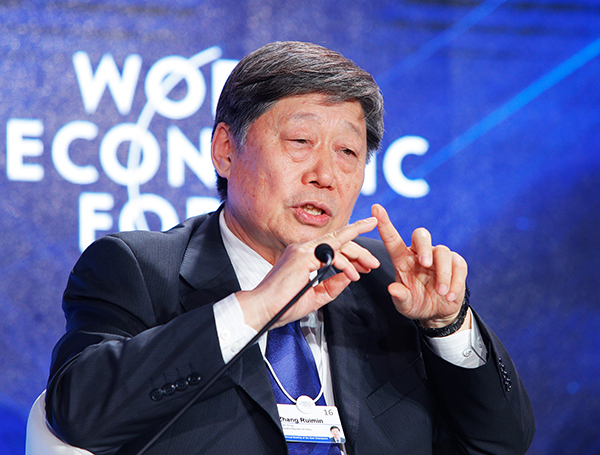 Zhang Ruimin, chairman of Haier Group, speaks at the World Economic Forum's annual event in Tianjin. [Photo/CFP]
Zhang Ruimin, chairman of Haier Group, said China's largest maker of home appliances will continue to be the platform where different cultures could coexist, thrive and contribute creative inputs for innovation in the industry, in line with the government's current emphasis.
The multicultural workplace approach will mark Haier's attempts to make its acquisition of General Electric's appliance business a success, he said.
Haier announced earlier this year it would buy the GE unit for $5.4 billion as part of efforts to expand its presence in overseas markets.
"Acquiring companies is like making a salad. The recipe for success is to use one type of sauce to blend different vegetables. In other words, to let different cultures coexist on one platform," Zhang said at the 2016 Tianjin Summer Davos, which ended on Tuesday.
Instead of sending its employees to manage the acquired foreign firms, the Chinese tycoon said Haier just relies on local staff and focuses on how to effectively motivate them.
The philosophy has proved to be successful in the company's slate of investments, he said.
For instance, after buying Sanyo Electric Co's appliance businesses in Japan and some Southeast Asian nations in 2011, the Qingdao, Shandong-based Haier managed to turn the loss-making units into profitable enterprises within eight months.
"It will be the same with GE's home appliance business. And more importantly, we will add innovative elements, such as leveraging the internet to shorten the distance from consumers," Zhang said.
Currently, the 67-year-old senior executive, who is known for smashing substandard refrigerators, is dismantling Haier's traditional corporate structure to build an open platform where staff can bring in their own ideas and resources to develop new products and services.
Over the past decade, Haier has downsized by eliminating more than 10,000 middle-level manager jobs, aiming to transform itself into an incubator of innovators. "So far, we have 3,000 small teams that are working on innovative projects, and about 200 of them have raised funds from venture capital firms," Zhang said.
Haier's intensified efforts to boost innovation are part of an entrepreneurial boom sweeping China as the world's second-largest economy is eager to cultivate new growth points to counter slowdown in the traditional sectors.
Feng Fei, vice-minister of industry and information and technology, said on Monday the government will roll out more policies to support innovation to upgrade the country's manufacturing industry.
Fan Feifei in Beijing contributed to this story.