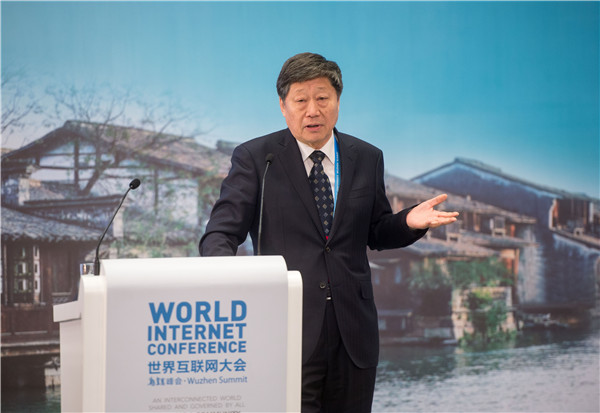 Zhang Ruimin, chairman and chief executive of Haier Group, speaks in Wuzhen, Zhejiang province. The town is known for its full free Wi-Fi coverage.CHINA DAILY
Haier sticks to disruptive innovation Household appliance giant's chief calls for a shift of focus from selling products to creating user resources and experiences
Speculation has been rife after Haier Group, a major manufacturer of household appliances, announced in January its plan to buy General Electric's appliance business for $5.4 billion.
Mystery swirls around the future direction of the GE unit under the leadership of Zhang Ruimin, Haier's chairman and chief executive, who at the age of 67, is known for innovative ideas, such as dismantling a traditional corporate structure through building an open platform where staff can bring in their own ideas and resources to develop new products and services. Over the past decade, Haier has got rid of 10,000 middle-level managers, aiming to transform itself into an incubator for innovators.
In his passion for the Internet, Zhang has set up seven Internet-connected smart factories.
Users around the globe have the option to personalize Haier appliances like refrigerators, air conditioners, washing machines, televisions and water heaters by communicating their preferences directly to manufacturers via the Internet.
They could also witness the whole process from manufacturing to loading and transportation.
According to Zhang, traditional enterprises should change the focus of their businesses from selling products to creating user resources, so as to achieve "zero distance" between enterprises and users.
About a month before the GE purchase was made public, Zhang shared his views about the future of the Internet with Xinhuanet.com, Haier's business strategies and what he's looking for with foreign acquisitions. Following are edited excerpts of the interview.
You attended the Second World Internet Conference held in Wuzhen, Zhejiang province, in December. What was your greatest impression from this event?
The greatest impression it made on me was that I saw more than 2,000 guests at the conference, nearly half of whom were foreigners.
I felt that although China lagged behind during the industrial revolution, it has seized the opportunity brought about by the Internet revolution.
China is very likely to become the leader in accordance with its current momentum, and this is something which moves me the most.
Which field or topic do you care about the most?
I am most concerned about how traditional industry could realize Internet-enabled manufacturing.
What most interested you in President Xi Jinping's keynote speech at the opening ceremony of the summit?
I think President Xi delivered three key themes in his speech: building jointly, governing jointly and sharing.
It is impossible to realize interconnection only by relying on a single power. We should jointly govern the world, rather than blame all of the problems on others. The fruits of the Internet economy should be shared by everyone. Therefore, President Xi's speech surpassed any one country or region, and looked at the problem from a global perspective.
It showed us the direction for future transformation in the Internet era.
Haier is now experiencing innovation, transforming from a manufacturing enterprise into an open entrepreneurial platform. Could you tell us about Haier's Internet strategy?
Simply speaking, traditional enterprises have been completely overhauled in the Internet age, and Haier is no exception.
We have reduced the number of middle-level managers by around 10,000, transforming the original pyramid structure into a network structure, where every employee and every entrepreneurial team can be connected with all social resources through the Internet.
In our ideal entrepreneurial ecosystem, the company will become an incubator, which provides entrepreneurial services for employees, and managers will become the owners of the platform, offering support for startups and entrepreneurs, and finally turning into the shareholders of micro enterprises.
The employees are transformed into makers, who could start a business, and then realize borderless development for enterprises.
You once said that businesses would die if they didn't access the Internet. What about Haier's strategy?
Haier had a boundary in the past and was engaged in producing white home appliances, including refrigerators, air conditioners and washing machines.
If there was no Internet, we would be continuously boosting our output and enlarging our sales scope, even establishing factories around the world, but now we can't do that.
Everyone is able to start a business in the Internet age, and we could expand our business to other fields apart from appliances.
For instance, we design smart ovens to attract a large number of users, who are then clustered together to discuss food.
Our next step is to develop upstream and downstream sectors in the food industry, which we call the convergence effect.
We don't sell products, but obtain more users. You couldn't easily label any enterprise in the Internet era. Haier is dealing with users' experience and demand.
Enterprises should transform from selling products to creating user resources in the Internet era.
Therefore, I think the biggest difference between traditional enterprises and Internet enterprises is that traditional enterprises focus on customers, while Internet enterprises pay attention to users.
How to define a customer?
A customer is the end point of a one-off transaction. Once one transaction ends, there is no relationship between the customer and the seller.
But a user is a node of an interaction, who participates in the whole process.
How do you view the development trend of the Internet over the next 10 years? Are there any areas in the Internet sector which you expect to do particularly well in the coming years?
The next development direction for the Internet is set to be satisfying users' personalized demand. There are three types of platforms throughout the world.
The first one is the aggregation platform, such as the e-commerce trading platform, which develops very fast; the second is the social networking platform, such as Facebook; and the last one is the mobile platform.
However, all of them lack an important element-customization, in other words, how to satisfy users' personalized demand.
I think customization is the most promising area in the future, which should not rely on offline stores and e-commerce platforms, but maintain zero distance with users. It embodies an important rule of the Internet-seamless connection.
Furthermore, just as Jeremy Rifkin, the celebrated US economic and social theorist mentioned, there is the sharing economy.
We will finally move toward the sharing economy through customization, which might be the development direction of the Internet in the next 10 years.
Many Japanese appliance brands are on the wane. What could Haier learn from this experience?
This is a question worthy of considering. Japanese appliances enterprises were our teachers.
However, many of them such as Sony Corp and Panasonic Corp have suffered big losses for a long period of time. I think the main reason lies in the fact that there is a long distance between these enterprises and their users.
After Haier acquired Sanyo Electric Co's appliance businesses in Japan and some Southeast Asian nations in 2011, we conveyed a message to them: everyone should be responsible for the market, and in turn the resulting benefits should be shared by everyone.
However, these Japanese enterprises don't possess the essential quality required by the Internet era, that is, zero distance from users.
In the Internet age, the flow of an enterprise should be changed. In the past, enterprises first carried out research and then design and manufacturing, and finally sold their products.
However, at present all of the employees get together to jointly create users' demand.
Therefore, traditional manufacturing is like a waterfall and the whole process is irreversible, but manufacturing in the Internet era is iterative. People get together to make changes and improvements continuously. These are two different methods of thinking.
Fan Feifei contributed to this story.
CV
Age: 67
Place of birth: Laizhou, Shandong province
Education:
1993-95: Master's degree in business administration from the University of Science and Technology of China
Career:
1984-91: Manager of Qingdao refrigerator factory (the predecessor of Haier Group)
1991-99: President of Haier Group
1999-2000: Chairman
2000 onwards: Chairman and CEO
Family: Married with children