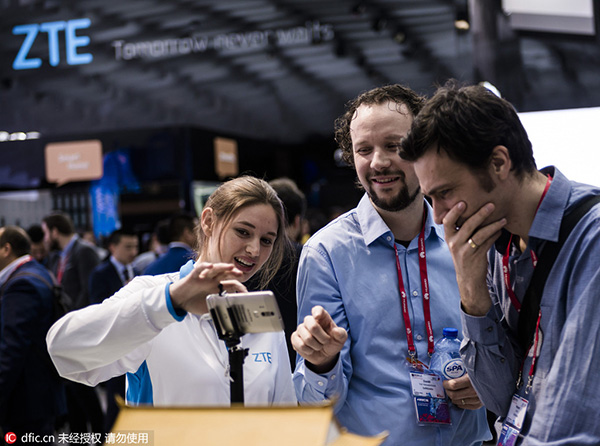 An employee explains ZTE's 'AXON' during the second day of the annual Mobile World Congress, one of the most important events for mobile technologies and a launching pad for smartphones, future technologies, devices, and peripherals, Barcelona, Spain, Feb 23, 2016. [Photo / IC]
ZTE Corp, a major international provider of enterprise and consumer technology solutions for mobile Internet and telecommunications, is eager to provide existing 4G users with "5G-like" experience on LTE devices.
The company signed a Pre5G memorandum of understanding (MOU) with Hutchison Drei Austria at the Mobile World Congress (MWC) on Tuesday to build the first Pre5G trial site in Europe.
Pre5G, an intermediate step between the current 4G technology and 5G, combines a 5G technology with existing 4G terminal products to allow faster speeds.
ZTE makes innovative use of Massive MIMO (multiple input multiple output) technology to enhance wireless spectrum efficiency and boost network capacity.
"In a commercial network, the average single-carrier peak rate of Pre5G Massive MIMO exceeds 400 Mbps, increasing spectral efficiency by four to six times as compared with that of existing 4G networks," said Xie Junshi, ZTE CTO of European & American Region.
According to Xie, there are currently 800 research and development staffs of the company working on 5G after the company invested more than 200 million yuan ($30.6 million) yearly on 5G-related development.
"We are seeking more leading industrial talents from the US and European countries to join our research and development team," Xie added.
Pre5G Massive MIMO uses beam forming technology to expand from 2D to 3D coverage, and implements intensive and extensive seamless coverage.
ZTE's Massive MIMO base stations have the capability to support more than 100 antenna elements and provide higher space division multiplexing gains than traditional 8-antenna base stations without changing existing terminals or air interfaces, greatly enhancing spectrum utilization. With ZTE's Massive MIMO base station, up to eight users can transfer data simultaneously.
Dating back in 2010, Drei chose ZTE as its strategic partner for modernizing its RAN and core network towards a high capacity network with a full nationwide 2G, 3G, and 4G footprint today.