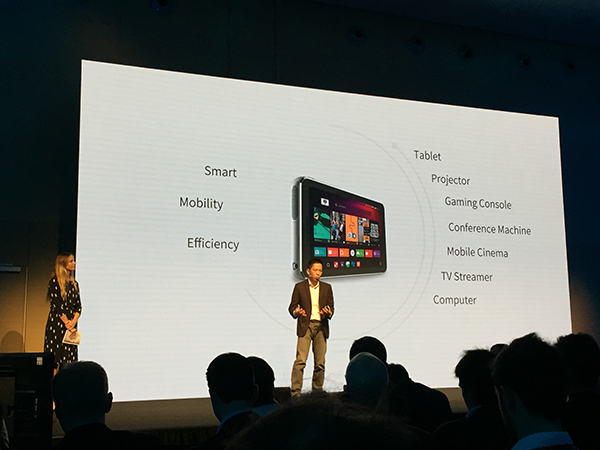 Waiman Lam, senior director of ZTE Mobile Device, speaks about the functions of Spro Plus, during the product's launch event held on Feb 21, 2016 in Barcelona, Spain. [Liu Zheng/chinadaily.com.cn]
ZTE Mobile Devices unveiled the Spro Plus portable smart projector, a new category of the Spro family, on Sunday in Barcelona, one day ahead the Mobile World Congress (MWC).
Spro Plus provides services such as voice conference, projection, touch-screen and innovative visual design features. The external USB camera also allows for multi-party video communication via applications like Skype.
"The Spro Plus is ZTE Mobile Devices' latest example of igniting digital life with imagination," said Adam Zeng, CEO, ZTE Mobile Devices. "We're proud of the Spro Plus, which showcases a pioneering technology as a first-rate product and delivers an even more intuitive user experience. This allows our users to have unlimited business and entertainment opportunities."
One of the Spro Plus' highlights is a larger, 8.4-inch Android AMOLED touch-screen with 2K resolution, paired with a 12100mAH battery for an enhanced user experience. The Spro Plus will be available in both a Wi-Fi-only version as well as a Wi-Fi and 4G LTE version.
According to the company, Spro Plus helps users work smart and play hard. Its visual capabilities include its vertical and horizontal keystone correction, which is its ability to project onto any place in any direction without distorting the image. Its autofocus keeps the image sharp and clear.
It uniquely uses laser instead of LED technology to project at 500lm, the ideal luminescence for either broad daylight or dark rooms, ensuring the best visual experience for users. This generation of Spro comes with an improved projection ratio. Placing the Spro Plus 2.4 meters away from any surface will project an image up to 80 inches across.
Spro Plus follows the Spro 1 and 2, both of which saw sales of over 500,000 units worldwide and is currently nominated for GSMA's 2016 Glomo Awards in the 'Best Connected Consumer Electronic Device' category. The original ZTE Spro won in the same category in 2015.
The device will be available globally by summer 2016, according to the company.