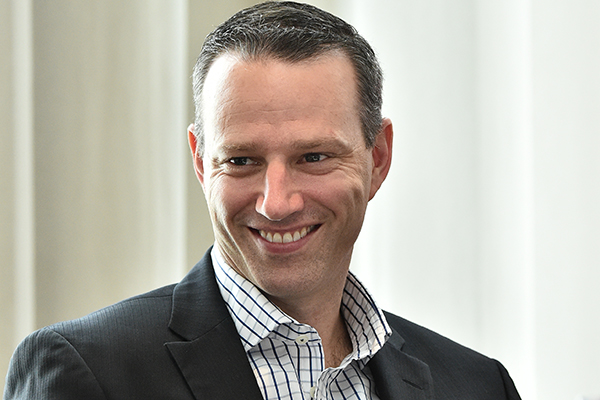 Paul Robson, president of the company's Asia-Pacific operations. [Photo provided to China Daily]
Under Paul Robson's leadership, software giant of the US is changing its tack in the country
China represents "an amazing" opportunity for Adobe Systems Inc to grow, said Paul Robson, president of the company's Asia-Pacific operations.
The United States software giant is betting on China's rapidly increasing digital marketing sector, he said.
Cloud computing will see the sharpest growth because Chinese companies are eager to deliver better business and shopping experiences to their customers in a wide range of industries from financial services to retail, he said.
Robson was quick to identify the top reasons why the world's second-largest economy could also be a goldmine for Adobe.
"China is already the biggest spender in online advertising. It is the largest economy in the region. The domestic opportunity remains huge," he said. "We provide technologies to organizations to (accelerate) customer interaction with the brand."
Famous for its graphic design software such as Photoshop, the San Jose, California-based company is moving into the cloud business in China to provide services to advertisement designers and marketing specialists.
Fueled by a strong cloud business, Adobe reported a record $1.38 billion in its first-quarter revenue, up 25 percent year-on-year.
Robson said the "extremely vibrant" innovative technology industry in China, driven by local internet giants such as Baidu Inc, Tencent Holdings Ltd and Alibaba Group Holding Ltd, put China in a unique position compared with other Asia-Pacific markets.
"This China tech doesn't exist in other areas in terms of scale," he said, adding the tech-savvy buyers in China made it possible for advertisers to try out most advanced online marketing technologies in the country.
As China's internet adoption rate hits all-time high, advertisers are spending billions of dollars in online marketing campaigns.
Advertisers' spending on internet advertising, a key part of digital marketing, surged by 36 percent year-on-year in 2015 to hit 209.4 billion yuan ($32 billion), according to Beijing-based iResearch Consulting Group. Companies in transport, real estate and food sectors were among the biggest spenders.
The organization further estimated that the sum is expected to surpass 400 billion yuan by 2018.
But penetrating the Chinese market requires deep knowledge of unique customer preferences, according to a report from Forrester Research Inc, an industry consultancy.
WeChat, an instant messaging service operated by Tencent, has replaced Weibo, a Twitter-like blogging service, and dominates both marketers' adoption and satisfaction in a recent Forrester study.
A whopping 92 percent of the Chinese advertisers use WeChat, and two-thirds report being satisfied or very satisfied with the app, which hosts more than 600 million users.
Wang Xiaofeng, a Forrester analyst, said three-quarters of the marketers she surveyed last year planned to increase this year's social marketing budget.
"But they struggle to determine the best social marketing strategies and tactics to engage with their target audience," she said.
Robson said the constant innovation in organizations like Tencent will keep producing great products, which can be served as a marketing platform in future.
He said he also believes as China learns from developed markets in terms of improving its research and development in digital marketing, more local companies will be willing to change the structure of their organization to cope with the digital world.
"The corporate structures are legacy-focused in most part of Asia. We start to see some of the shifts, and Adobe businesses accelerate with the shifts," said Robson.
As the head of the Asia-Pacific operations, Australia-born Robson is overseeing Adobe's business in a number of key markets, including China, South Korea, India and Australia.
Before joining Adobe in 2011, he led Hewlett-Packard Co's networking division across Asia Pacific. He also serves as board member of a not-for-profit organization Tresillian that focuses on improving health and well-being of nearly 80,000 Australian families with babies.
The sales and marketing veteran said Chinese companies could enjoy an edge when competing with multinationals that have deeper pockets for online marketing. "The trick is, they (Chinese companies) need to adopt the best technology, hire marketing professionals and be willing to make changes within the company for the internal process to flow smoothly," he said.
In addition, Robson said multinationals will make global technology decisions, which makes them seek same customer experiences in China and the rest of the world.
"In some cases, it's difficult to execute globally across cultures," he said. "Chinese companies are more nimble and act faster in marketing because they don't have concerns about their global footprint."
In April, a small-time Shanghai cosmetic firm, Lily and Beauty, spent 22 million yuan for an advertising slot in a popular online video series produced by a top Chinese internet celebrity Papi Jiang. It was also the first time for a Chinese web sensation to snap up advertising deals.
The 29-year-old Papi Jiang has roughly 10 million followers on a number of online platforms, including WeChat and Weibo. Each of the video clips posted on her WeChat account has more than 100,000 viewers.
Gao Yuan contributed to this story.
CLOSE-UP
Paul Robson
Adobe's president for Asia Pacific
Believes businesses, governments and individuals have never been better placed to create compelling content, deliver richer and more personalised customer experiences, in a cost-effective way using the latest technologies.
Prior to joining Adobe, Paul served as vice-president and general manager for HP's networking division across Asia-Pacific and Japan. Robson was also the founding director of Wedding Gifts Online, a successful online startup that went on to become Australia's largest registry service with presence in both physical and online channels.