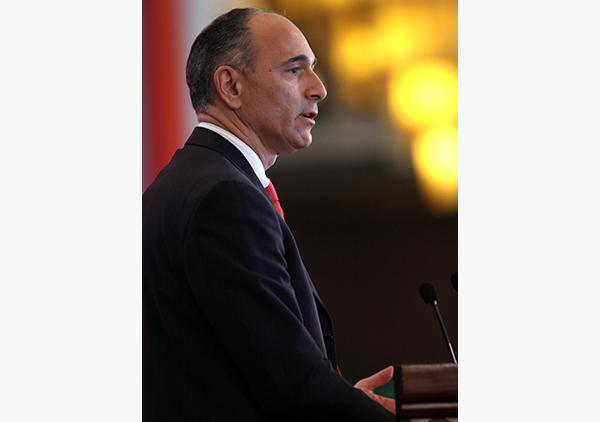 Joseph Jimenez, CEO of the Swiss pharmaceutical giant Novartis International AG. [Photo provided to China Daily]
Innovation will be Novartis' priority in 2016, its chief says
Joseph Jimenez, CEO of the Swiss pharmaceutical giant Novartis International AG, is a titan in the industry. A few years ago, he was named one of the 25 most influential people in biopharma.
Since taking over as CEO in 2010, he has consistently stressed the need for innovation and a new strategy as a "patent cliff" threatened major drugmakers.
Patent cliff refers to the potential sharp decline in revenues upon the expiry of drug patents owned by a company.
Novartis is set to lose patent protection for some of its drugs soon.
Despite the looming threat, the company performed pretty well last year.
Jimenez said he believes China will be one of its main three markets in five years.
He praised the government's efforts to reduce what he called China's drug lag, or the delay in getting new drugs to patients.
Jimenez spoke to China Daily recently. The following are excerpts from the interview:
How did Novartis perform last year? What is your forecast for this year?
Novartis had a good year in 2015. Aside from completing our portfolio transformation, which focused on three big divisions-innovative medicines, eye care (Alcon) and generics (Sandoz)-we also had a good financial performance. Our sales were up 5 percent in local currencies and there was a double-digit profit increase.
The best part, however, was innovation. We had more new drug approvals in Europe and the United States last year than any other pharmaceutical companies. And we also launched two very important new drugs. One is for chronic heart failure. There have not been new therapies for 20 years in heart failure. The other is for psoriasis. Overall, 2015 was a very good year for the company.
In 2016, we lose patent protection for our blockbuster (cancer) drug Gleevec in the US and we'll lose the patent in Europe next year. This will be a year that we lose patent protection, but we will also start to ramp up new drugs.
The overall priority for 2016 is to keep the innovation strong because innovation is the core of our business. If we can continue to strengthen the pipeline with new drugs, gain new approvals, we'll be a very strong company.
How about China? How much did the Chinese market contribute to your business?
We don't provide country level breakup of revenues. But I can tell you that five years ago, China was in our top 20 countries. It's currently in our top 10 and within five more years, China will be in our top three countries. You can see the importance of China in our overall company. It's increasing very rapidly and that's why we are investing so much here.
How do you see the opportunities and challenges for your company amid the Chinese healthcare reform?
On the opportunity side, the government has recognized that new drugs don't come to Chinese patients as soon as they do to other countries. For example, of all the drugs introduced since 2008, only 20 percent have come to China.
And I know that the Chinese authorities are working very hard to reduce what we call the drug lag that prevents Chinese patients from getting drugs sooner.
For example, they have increased the number of reviewers so that all of the files can be adequately managed and approved or not approved depending on the data. They also have announced the priority review process for breakthrough therapies, which is something that other parts of the world also use, to speed up access of medicines for Chinese patients. So I think they are moving in the right direction in terms of increase speed of market access for Chinese patients.
One of the questions is how we can expand insurance coverage so that we can ensure that not only all Chinese citizens have insurance for medicines but that they have them in a high enough level so that they can be treated. That is because we believe that the Chinese government could lower total healthcare cost by more efficient use of innovative pharmaceuticals. For example, our heart failure drug Entresto, which is under Chinese official review, has proven to reduce hospitalization by 20 percent. So there's a good trade-off there.
How much do you invest in China every year and in what ways?
Our strategic investment in China has reached more than $1.2 billion. We have invested more than $1 billion in our research center in Shanghai, which officially opened recently. It's a long-term commitment to helping the Novartis business to identify how we can better serve patients in China.
But it is also going to help grow the pharmaceutical industry in China. Think about everyone employed in the research center coming out of the universities such as Fudan University and Peking University. That would be very beneficial for the local Chinese industry as people move in and out and build the whole ecosystem.
You've spoken about biosimilar and generics. Could you explain?
Biosimilar is very important to the future of the healthcare systems around the world because biologics are very expensive originator drugs. And it's not the same as a chemical. If you have a chemical, once a chemical goes generic, it's very easy for generics to launch. But in biologics, because we use living cells to create the medicine, it's much more difficult to make generics. So we have made a commitment to develop and launch generics. We'll have 10 filings over the next three years for biosimilars, which will help lower total cost of the healthcare system and free up funds so that more patients can be served and there will be more room for other innovative medicines that come.
Could you explain your mergers and acquisitions strategy?
We call our M&A approach precision M & A in terms of what we did two years ago with GSK (British drugmaker GlaxoSmithKline Plc) and (the US pharmaceutical giant) Eli Lilly & Co. Precision M & A is when you look at your portfolio and what assets you want to keep and what assets you need to either sell or make stronger.
And then you also look at other companies and go through the same exercise. And you try to find a match. We found a match in GSK. We wanted their oncology products and they wanted our vaccines products. So we did what's called a swap, where we swapped the assets and then we also formed a joint venture of our over-the-counter drug business. We call it "precision" because it goes in and identifies those specific assets in another company that help strengthen our company.
What is your management style? Are you a tough man?
My job as the leader of the company is to find the right people to run the businesses, to agree on the objectives and then to let them run the business.
So my style is, let's get aligned upfront on what we are trying to accomplish, let's set targets and then give the managers the autonomy they need to deliver those targets. As long as everything goes well, then, there's a lot of autonomy.
If things don't go well, then I will get very involved in the business and help them manage it in a way that can get us back on track.
What are your hobbies?
I like to do physical fitness, go to the gym and stay healthy, try to clear my mind. Working out is one of my big hobbies. I also love fly fishing. It's popular around the world, such as in Montana where there are very beautiful big rivers and a lot of beautiful landscape.