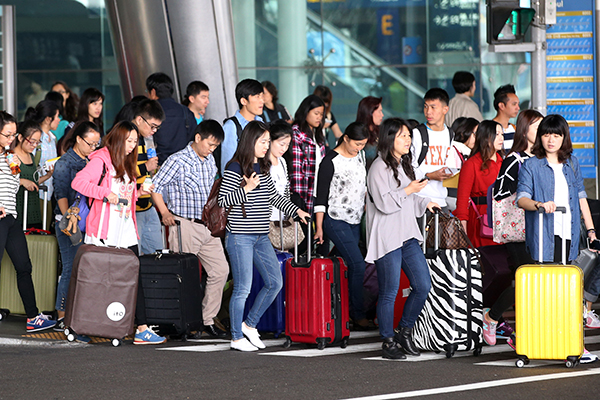 Chinese travelers arrive at Incheon International Airport in Seoul. [Photo/China Daily]
Outbound tourists ride on agency packages whose prices are set months in advance
When the yuan fell to 6.58 to the US dollar, the lowest level in five years, on Friday, it marked the Chinese currency's 1.4 percent depreciation this year. Alarm bells rang in some sectors, but not in the tourism industry, which continues to remain sanguine.
For, the yuan's descent against the greenback is unlikely to hurt the market for outbound trips of Chinese tourists, experts said.
Although local currency exchange rates matter in trips to all destinations, not just the United States, it's the dollar-yuan rate that has implications for other rates.
But, given the yuan's internationalization, reasonable fluctuations in currency exchange rates are to be expected, and should not cause undue concern, said Jiang Yiyi, director of the International Tourism Development Institute, which operates under the aegis of the China Tourism Academy.
She said the yuan's current weakness had only a marginal effect on Chinese tourists' purchasing power abroad. "The impact is minor."