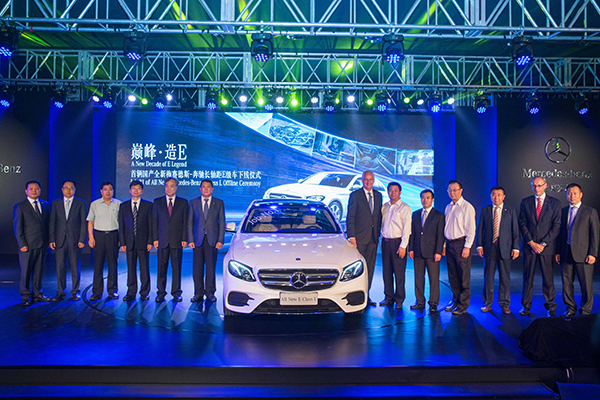 Executives from Daimler and BAIC Group and guests attend the ceremony to cerebrate the all-new E-class L rolling off the production line at Beijing Benz Automotive Co Ltd on Thursday. [Photo provided to China Daily]
The long-awaited all-new E-Class L rolled off the production line at Beijing Benz Automotive Co Ltd on Thursday, heralding a new decade of development for the joint venture.
Since the E-Class' localization in 2005, each update has attracted great attention in China and wowed fans with new features.
The new model is no exception, and its features represent a new zenith for the automaker. Designed for Chinese customers, it boasts functions such as autonomous driving and parking assist.
"The all-new E-Class L is the most intelligent model we have to offer," said Peter Schabert, president and CEO of BBAC.
"It is the result of 10 years of experience and expertise at the joint venture and the world's state-of-the-art manufacturing techniques. We believe that it is a car that shows the latest trends of the automotive industry's future."
Schabert said quality is the top concern at the joint venture, which took pains to ensure that employees mastered the latest technological processes.
More than 100 workers were sent overseas to get trained to produce the new model and many engineers from Germany came to China to offer their support as BBAC is an important part of Mercedes-Benz's global manufacturing network.
The joint venture boasts world-leading equipment. For instance, it has introduced an optical detector, the first of its kind in China, which can find tiny flaws on stamping parts to ensure that parts for the new model are in perfect condition.
In addition, the model's body has more than 6,500 connection points and each of them is in strict accordance with Daimler's globally uniform standards.
Several days ago, Daimler and BAIC Group inked a 4 billion-yuan ($607 million) deal to expand the joint venture's engine plant.
Chen Hongliang, senior executive vice-president of BBAC, said the all-new E-Class L has undergone tens of thousands of rounds of testing and debugging.
Chen said the joint venture is working as a bridge that connects the Made in China 2025 strategy and Germany's initiative Industry 4.0, and the all-new E-Class L is an example of its efforts, as the model features the latest technology and high-level automation.
Made in China 2025, unveiled last year by the Chinese government, is an ambitious 10-year plan for manufacturers that will mean greener, more intelligent processes, emphasizing quality over costs.
Germany's Industry 4.0, or the fourth industrial revolution, refers to the trend of automation and data exchange in manufacturing technologies.
Chen said the most valuable part of Industry 4.0 is not equipment but a giant network of smart systems that connect and coordinate different pieces of equipment, such as those available at the joint venture but "not available in the market".
He added that the company's workers are the most important part of the operation. "We value our employees by creating opportunities for their development and stimulating their enthusiasm with learning and innovation.
"Based on our experience in the past 10 years, we will continue to improve their capacities. As long as they become more capable and innovative, the joint venture as a whole will become more vigorous and thus bridge the two initiatives-Made in China 2025 and Industry 4.0," he said.