Some of the world's biggest e-commerce and technology companies are expected to attend the big data and e-commerce summit which begins on Thursday in Guiyang, capital of Guizhou province.
The 2016 China Big Data Industry Summit & China E-Commerce Innovation and Development Summit (Big Data Expo 2016), the only exhibition based on big data in the world, has now been upgraded to a state-level event held by the China's National Development and Reform Commission and the People's Government of Guizhou Province.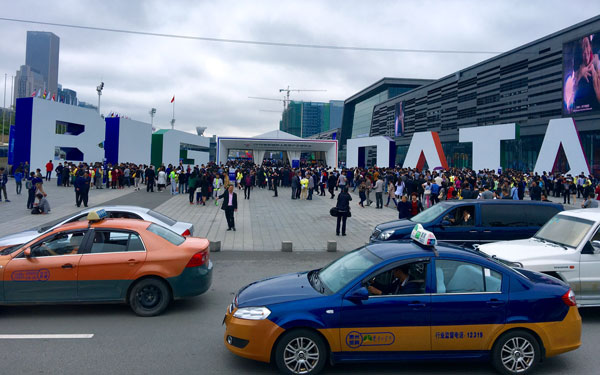 Photo taken on May 25, 2016 shows the main entrance of Guiyang's Big Data Expo held in the capital city of Southeastern China's Guizhou province.[Liu Zheng/chinadaily.com.cn]
Events at the exhibition can be described as "two summits, one exhibition, two contests and a series of activities", including 2016 China Big Data Industry Summit, China E-Commerce Innovation and Development Summit, Exhibition, Pain-point seeker contest and Maker contest.
More than 300 enterprises will take part in the event, including Alibaba Group Holding Ltd, Huawei Technologies Co Ltd, Intel Corp, and Foxconn Technology Group, and industry leading enterprises such as DidiKuaidi, JD.com Inc and Shanghai Zhizhen Network Technology CoLtd. And the number of attendees is expected to exceed 20,000, according to a report of Guiyang Daily.
The event will showcase big data's applications like artificial intelligence, robots, virtual reality, smart transportation, smart city, finance, Internet of Things, health and medical care, and e-commerce.