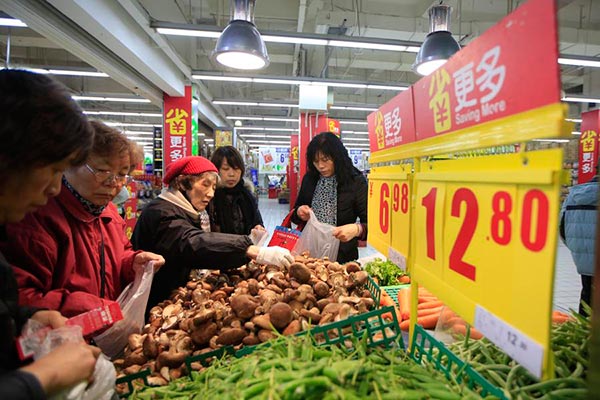 Consumers choose vegetables at a supermarket in Shanghai, March 10, 2016.[Photo/Agencies]
Seven provincial-level regions have unveiled their plans to reform price control, reported chinanews.com on Thursday.
The website said that so far Beijing, Fujian, Hunan, Jiangsu, Inner Mongolia, Liaoning, and Hebei have made their programs public.
Beijing and Hebei province have said they will lift price controls in competitive sectors by 2020, while Fujian will take a similar move as early as 2017.
Meanwhile, the reforms are focused on some key sectors, such as transportation, medical services, resources and education, and the timetable and roadmap have been established accordingly.
Beijing will improve the pricing mechanism that will ease traffic congestion, implement the Beijing 2013-2017 Clean Air Action Plan, and conduct research on the congestion charge, according to the website.
Last October, the State Council issued the Opinions on Promoting the Pricing Mechanism Reform. According to the guideline, the country will lift price controls over nearly all goods and services in competitive sectors by 2017.
By 2020, China should have a sound pricing mechanism in which the market will play a decisive role, and there will be a rational and transparent pricing regulation and a well-enforced anti-monopoly law.
Pricing reform has moved swiftly in recent years, with price controls over medicines, telecommunications and transportation relaxed.