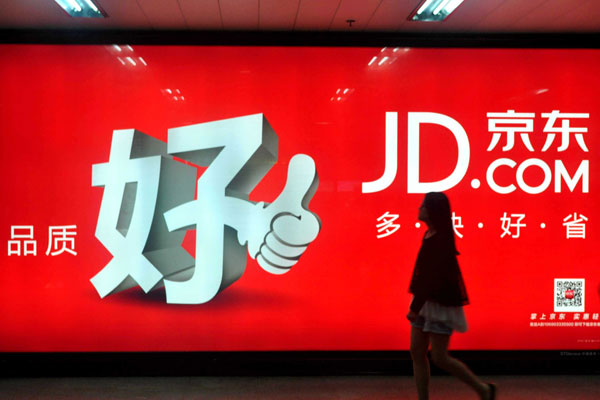 An advertisement for e-commerce retailer JD.com Inc in Shanghai. [Photo/China Daily]
MILAN, Italy - China's online direct sales company JD.com on Sunday signed a strategic agreement of cooperation with an Italian service provider to bring a variety of Italian artisan brands into the Chinese market.
The agreement between JD Mall's Apparel and Home Furnishing and Milan-based Ge.Fi. Gestione Fiere S.p.A was signed during L'Artigiano in Fiera, the largest international trade fair dedicated to craftsmanship which takes place every winter in Milan.
"This agreement with one of the world's top largest e-commerce companies is very important ... we wish we will bring hundreds of Italian artisan brands into the platform in the future," Antonio Intiglietta, President of Ge.Fi., which is the organizer of L'Artigiano in Fiera, told journalists.
"Italian artisans can win the challenge of globalization thanks to the beauty, quality and brilliance of their products," he said, and "China absolutely is the most important market they can aim to," he added.
Intiglietta also said that fashion will certainly be the starting point for bringing Italian craftsmanship into China through JD.com, followed by home furnishing, food and many other sectors.
Based on the agreement, Ge.Fi. will be responsible for bringing the Italian brands into the JD.com platform, while JD.com will be responsible for the advertising and promotion activities on the website.
The Italian brands offered on JD.com will include fashion clothing, jewelry, shoes, boots, bags, home furnishing, leather goods, handicrafts and makeup. "We want to bring all categories of Italian products into the Chinese market, and add further brands in the future," Laura Ni, Fashion and Home Group Key Account Dept BD Manager at JD.com, told Xinhua.
Ni also wished that the platform will successfully explore more markets in Europe to bring the best European brands into China's market.
L'Artigiano in Fiera, launched in 1996, in its current edition running on Dec 5-13, hosts 3,250 exhibition booths. This year's fair is home to products from 115 countries and regions.
Since its creation, the fair has involved around 17,000 artisans and has been visited by more than 24 million people. Following the fair's success, an e-commerce platform that facilitates the online purchase of products exhibited during the event, Artimondo, was also born.