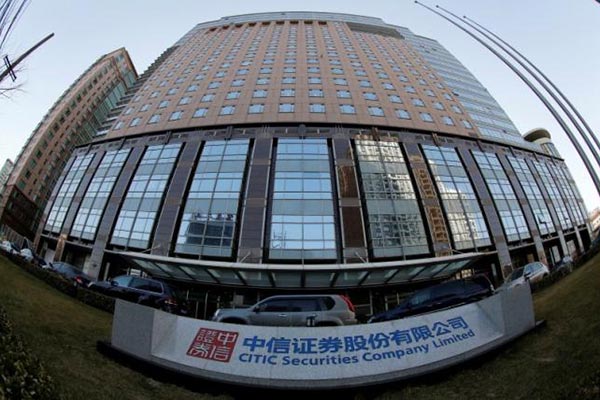 The signboard of CITIC Securities is seen at its head office in Beijing March 27, 2013.[Photo/Agencies]
CITIC Securities Co Ltd is not able to contact two of its top executives, China's biggest brokerage said on Sunday, following media reports that they had been asked by authorities to assist in an investigation.
CITIC Securities said in a Hong Kong exchange filing it could not reach two of its most senior investment bankers, Chen Jun and Yan Jianlin. Chinese business publication Caixin said on Friday the pair had been detained, although it was not clear whether they were subjects of an investigation or merely being asked to assist with it.
CITIC Securities is among Chinese brokerages facing investigation by the country's securities regulator for suspected rule breaches.
Some employees of CITIC Securities have returned to work after assisting with unspecified government investigations, the company said in the filing.
Chen is head of CITIC's investment banking division, according to the company website, while Yan runs investment banking at the company's overseas unit CITIC Securities International.
Several high-profile brokerage executives have been investigated in the Chinese mainland for alleged violation of rules.
Executives at CITIC Securities have been probed for insider trading and leaking information. Last month, the company said it was choosing a new chairman and incumbent Wang Dongming could not take part because of his age.