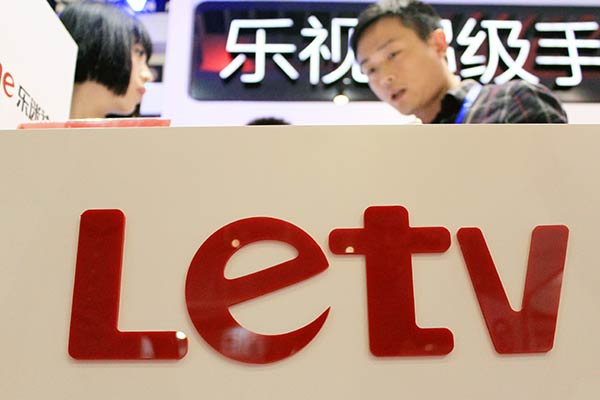 Internet company Letv plans to develop smart electric cars with British luxury carmaker Aston Martin. [ZHEN HUAI/CHINA DAILY]
China's young Internet company Letv is planning to develop connected electric cars with British luxury carmaker Aston Martin.
The two companies will start a series of research projects ranging from connected technologies to car engineering and manufacturing, according to a memorandum of understanding they signed on Thursday night.
Ding Lei, co-founder of Letv's car unit, said the partnership is a "landmark" in its car making plan, which was made public in December.
The dotcom firm has big ambitions in the new-energy vehicle industry, which is being encouraged by the Chinese government to cope with air pollution.
The MOU signing, which Aston Martin CEO Andy Palmer described as "getting engaged", came after their initial contact and "dating" during the Shanghai auto show in April.
Palmer said their collaboration was partly because of their common interest in electric cars. "We see the electric vehicles as a vital part of our future product portfolio and welcome Letv as a research partner in this exciting venture."
He said that Aston Martin is 102 years old and it is necessary for old dogs that want to learn new tricks to work with young dogs in this fast-changing world.
"The motoring industry is sometimes complacent so you need new blood. …The best way for us to be relevant as a brand is to bring the best of the old and the best of the new," Palmer said.
He said the cooperation would begin by bringing Letv's touch-screen system to Aston Martin's Rapide S to be exhibited at the Consumer Electronics Show in January in the United States.
More connected technologies will feature in its first electric car RapidE, which the British carmaker said would roll off its assembly line in the United Kingdom in about two years.
Jia Yueting, Letv's chairman and CEO, said in addition to the connected technologies, the two companies will leverage their respective resources to carry out long-term, allaround cooperation in building connected electric vehicles, with the aim of providing next-generation transportation tools and global traffic solutions.
"It is a win-win venture which symbolizes the deepening collaboration and reformation between the IT and automobile industries," Jia said.
Jia said on its Sina Weibo on Friday morning that Aston Martin will be the OEM for Letv's first electric car.
The car has completed testing in the US and a small scale trial production is on the horizon, the company said at a news conference in Beijing in late October.
Letv's car unit has more than 700 engineers worldwide, with 400 of them based in the US. Letv is also a large shareholder of Atieva, designer of models such as the Tesla Roadster, Audi R8 e-tron and Chevrolet Volt.
In early September, Letv became a major investor in a new-energy vehicle charging station producer in China as part of its green auto campaign.