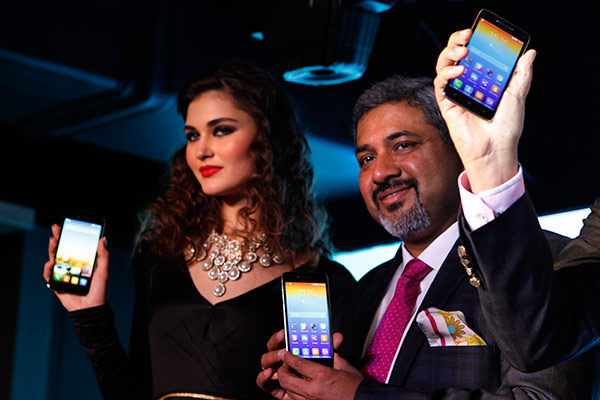 Amar Babu (right), chairman of Lenovo India, stands together with a model at the launching ceremony of Lenovo Vibe X smartphone in New Delhi.[Photo/Agencies]
Amar Babu is convinced he has the recipe of success to make Lenovo a major player in India's rapidly expanding smartphone market.
As chairman of the group's operation in India, he feels the Chinese company has the edge when it comes to high-quality products, technological innovation and affordable prices.
The numbers certainly look good for the world's No 1 PC manufacturer.
In the third quarter, Lenovo shipped a record 2.7 million smartphones in India with a market share of close to 10 percent.
This made the Beijing-based giant the fourth biggest smartphone manufacturer in terms of shipment in the country behind Samsung Electronics Co Ltd, and domestic brands Micromax and Intex.
"The first milestone was crossed ... we are expecting even faster growth here," Babu, who is also vice-president and chief operating officer of Lenovo's Asia Pacific division, said.
Only hours earlier, he had poured over the latest shipment figures.
Now, he was sitting in an empty dining room at a Four Seasons hotel in downtown Mumbai as he talked about his team's outstanding performance and the company's online to offline marketing strategy.
One goal was finally within reach after Chen Xudong, who heads Lenovo's global smartphone operation, made double-digit market share in India a top priority during the summer as the company goes head-to-head with Samsung.
When he came out with his remarks, the group had a market share of just 6 percent compared to the current number of 9.5 percent. "Getting the latest technology, such as 4G, into the products will help to grow sales even more," Babu said.
Lenovo's K3 Note, a 4G Android smartphone which costs 9,999 rupees ($150), was the best-selling mobile in its class in India during the third quarter, according to consultancy Counterpoint Technology Market Research.
With a 5.5-inch (139 millimeters) screen, the stylish pamphlet-size device hit a sweet spot in terms of specifications and price, Counterpoint said.
Part of the allure is its 4G capability after India's major telecom carriers, such as Bharti Airtel Ltd, rolled out the service less than a year ago.
Most of Lenovo's brands target the mainstream market, which revolves around a price range of between $150 to $250.
"It was a good call for Lenovo because 70 percent of India's smartphone sales are generated by devices priced below $300," Babu said.
But the sector is incredibly competitive with a list as long as your arm vying for market share. Included in the mix are Chinese companies like ZTE Corporation, Xiaomi Inc, Oppo Electronics Corp and vivo Mobile Communication Technology Co Ltd. All of them have spent heavily on marketing.
Still, Lenovo's early investment in "brand building" has helped the company stay ahead of most of its rivals.
"We started to do brand building on phones about two and half years ago," Babu said. "Nobody knew Lenovo made phones back then. The next step is to increase offline sales."
More than half of the company's smartphone sales are generated online. But that is changing as Lenovo has about 7,000 traditional outlets.
The group is also in talks with Indian electronics store chain Croma to sell a wider range of devices across the country.
Earlier this year, Lenovo opened a smartphone assembly plant near the port city of Chennai. It also makes PCs.
By setting up a manufacturing base in India, the company has managed to keep costs low-a major advantage in a cut-throat business. "I am very, very positive about sales next year," Babu said. "Even if we do not increase our market share, Lenovo will still produce 25 million phones in the next 12 months just to feed India's growing demand.
"In the next three to four years, the market is expected to double from this year's industry figure of 120 million," he added.
In the third quarter, Lenovo reported worldwide smartphone shipments of 18.8 million units, putting the company in the global top five.
"We are beating our numbers every time," Babu said about the market in India.