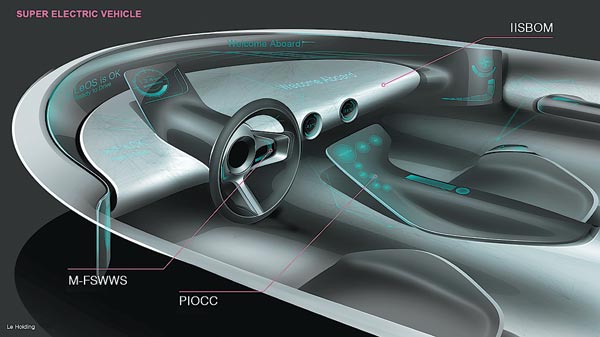 Leshi Holding (Beijing) Co's super electric vehicle concept illustrates "LeOS is OK. Ready to drive" displayed on the dashboard. [Photo/China Daily] 
Entertainment firm's move to enter auto world divides industry opinion
Chinese Internet entertainment giant Letv has set up a company responsible for its electric car program, it said at a press conference in Beijing on Jan 20.
It was the first time that Letv spoke publicly about its plans to expand into car making since its president, Jia Yueting, mentioned the program on Sina weibo, a twitter-like social networking site, in December.
Lyu Zhengyu, former boss of Infiniti China, was appointed vice president of the newly established Leshi Super Electric Car Company.
Lyu has worked in the traditional car industry for about 20 years and said he decided to join Letv because he shared Jia's vision that cars should be electric, smart and connected in the future.
He Yi, Letv's vice-president, said Internet-based customer experiences were forcing the auto industry to make changes.
For example, navigation apps installed on a mobile phone can be updated weekly, while equivalent car devices pre-installed two years ago usually take three months to update, said He.
"It is embarrassing that you drive a shiny car but the maps in its navigation software are two years old. That is why people who have got accustomed to modern smart devices are unsatisfied and complain about their driving experience," he added.
He said Letv established a research and development team of about 260 engineers in Silicon Valley in the United States and they have been working on the electric car program for more than a year.
Letv is a large shareholder of Atieva, designer of models such as the Tesla Roadster, Audi R8 eTron and Chevrolet Volt.
He said the Letv car would be a smart, Internet-based electric car. "That means we will offer not only the car but also a series of apps and content. In a word, the car offers more possibility."
The company has released a user interface for cars and said its new model would use its self-developed Letv Operating System, or LeOS.
No details were given about when the car would be ready for release, but Letv said its electric vehicle would be "half or even a third of the price" of those currently on the market. The company said the price cut would be the result of a new business mode that consists of "platform, content, terminals and applications".
The company said the car would be a mobile smart terminal that will let car owners access Letv's content and apps through the lifespan of its products. Letv added that "the mode will be extremely competitive in the auto industry".
Industry insiders and analysts were divided on the fate of Letv's electric car program. Xu Hao, an iResearch Group analyst, said the electric car project was going in a direction with great prospects.
John Zeng, general manager at Shanghai-based consulting firm LMC Automotive, did not think the program had a future.
"It won't be that easy to overthrow the traditional auto industry. Cars, including electric ones, are in essence transport tools and they won't be like smart terminals because driving will become dangerous if drivers are distracted," said Zeng.
Wang Chuanfu, president of Chinese automaker BYD, told the press that Internet companies' vow to make cars was "nothing more than a joke".
"How can they transform the auto industry when they cannot even change hardware used in their own industry?"