Sales of luxury goods slowed in China during 2014, with the growth rate falling for the first time amid slowdown in economy and brand proliferation, a new study released by global consultancy firm Bain & Co said on Tuesday.
Based on a survey of 1,400 respondents across China, Bain said shoppers spent around 380 billion yuan ($61.13 billion) on luxury products worldwide in 2014, up 9 percent year-on-year. However, only 30 percent of the purchases were made within China from stores and online shops and the total consumption fell by 1 percent on a year-on-year basis to 115 billion yuan,
It's the eighth consecutive year for Bain & Co to release this report. Let's take a look at the trends in China's luxury market in the past year.
1 Growth decline in domestic luxury market for the first time
The slump in luxury goods sales is primarily a result of the ongoing anti-corruption and frugality campaigns, factors that have undermined luxury gifting, said Bruno Lannes, a partner with Bain. Another factor that contributed to the slowing growth is that more consumers are shopping overseas. Men's watches and clothes are the worst-hit in this slump.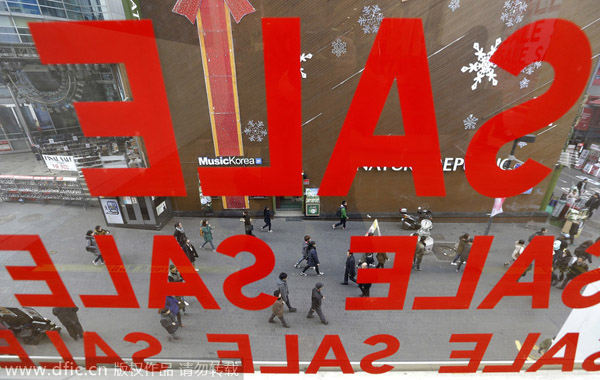 People walk on a shopping street in Seoul, South Korea, Friday, on Jan 23, 2015.[Photo/IC]