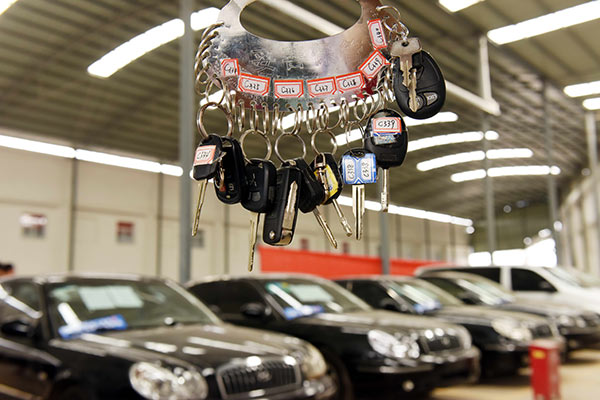 Keys for secondhand vehicles hang in a market in Xi'an. [YUAN JINGZHI/FOR CHINA DAILY]
Authorities may apply punitive measures next year on vehicle sellers when their products are found to be substandard, which is expected to help the world's largest vehicle market's lagging used car trade.
The State Administration for Industry and Commerce deputy director of consumer protection bureau Li Jun said on Nov 30 that the details of specific supervising and regulatory approaches might be released next year.
In case of vehicles both new and used, if of poor quality or bearing safety hazards, the watchdog could punish the sellers regardless of whether they are authorized dealers, independent used car vendors or online shops.
China Auto Dealers Chamber of Commerce deputy secretary-general Pan Xiuli said the same day that she had earlier done local market research and found that less than 10 percent of the more than 300 private car buyers surveyed bought secondhand cars.
"Ninety percent of the surveyed car owners didn't dare buy used cars, as they were afraid of being cheated or experiencing future troubles with poor condition cars. The 10 percent who bought used cars were those with knowledge of the cars, or who had relatives or friends who are savvy," she said.
Industrial data shows that more than 7.55 million used cars were traded in China from January to October of this year, but the accumulated sales volume of new passenger cars hit 16.5 million units during the same period.
The trade data indicates a used to new car ratio of 0.46, significantly low when compared with 2.8 in the United States where nearly four of every five cars sold are second hand.
"The customer's very low confidence levels in the sellers constrains the business. Many people perceive used-car sellers as cheats who fool and swindle buyers with poor cars at unreasonably high prices. Used-car sellers are called car mongers in Beijing," Pan said.
An earlier survey by Youxin Group, which operates the online used-car sales website Xin.com, found that 13 percent of prospective buyers considered used cars, but merely 10 percent of those bought a used car. However, 95 percent of the used-car buyers were satisfied with their purchase.
Shu Shanhang, CEO of used car trading software company Chelaike, said: "The majority of used-car buyers are happy, much more than the new car buyers. Last year, Beijing Used Vehicle Trading Market recorded around 360,000 used car trades, with merely 30 complaints; the market in Wuhan recorded 68,000 used-car trades, with 106 complaints."
"The complaint rates on used cars was merely 0.83 in 10,000 in Beijing, and 15.6 in 10,000 in Wuhan.
The rates for new cars were 15 in 10,000 in Beijing and 20 in 10,000 in Wuhan," he added.