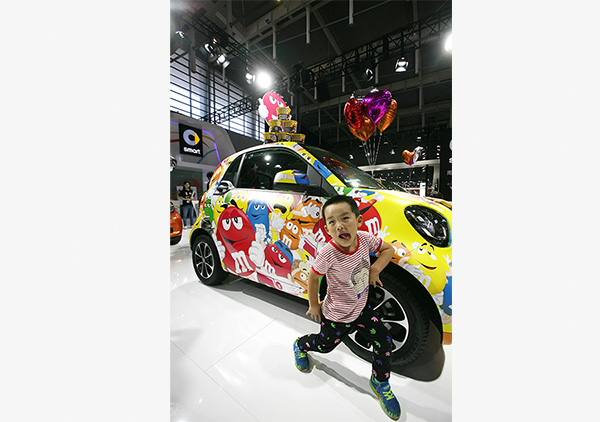 A child plays at an automotive show in Nanjing in October. To energize a sluggish Chinese auto market, the government created stimulus policies to boost the traditional auto and new-energy vehicle markets. [Photo provided to China Daily]
New-energy vehicles provide reassurance in otherwise sluggish demand
Despite the summery weather in South China, the annual automotive show in Guangzhou has felt some chill from the slowdown of the world's largest auto market.
The event, with "New Technology, New Life" as its theme, is showcasing 1,000 vehicles this year, 36 of them having global premieres, according to the organizers.
Information on the event's website shows that automakers worldwide exhibited 1,079 cars, with 56 global premieres, at last year's show.
The comparison comes as no surprise to many industry insiders considering the auto market's sluggish performance this year.
Auto sales in China grew a mere 1.5 percent year-on-year in the first 10 months. That growth rate was even lower before the central government gave a helping hand in late September by halving the tax on purchases of passenger vehicles with engines that are 1.6 liters or smaller.
"It is clear that the State Council's stimulus policy has worked effectively," said Dong Yang, executive vice-president of the Chinese Association of Automobile Manufacturers, at a news conference in early November.
The association's statistics show that 1.33 million vehicles with such engines were sold in October, a 16.3-percent growth from September, accounting for 69 percent of all passenger vehicles sold that month.
Even with the stimulus policy, Dong was uncertain if the overall market's growth rate this year would meet the association's estimated 3 percent growth year-on-year.
At the start of 2015, the association expected the Chinese auto market would grow by 7 percent, almost the same as in 2014, but the sluggish performance in the first half of the year forced the organization to slash its forecast to 3 percent in July.
Factors blamed for the poor sales vary-China's overall downward economic pressure or the turbulent stock market earlier this year-but one thing everyone agrees is that nobody predicted this scenario at the start of the year.
"We did not anticipate sales would fall into such a situation," said Shi Jianhua, the CAAM's deputy secretary-general.
"Our estimated 7-percent growth year-on-year was based on the opinions of major carmakers in the country."
Amid the sluggish market, the ministry of industry and information technology on Nov 12 announced 14 domestic carmakers would close their businesses soon and more are expected to do so.