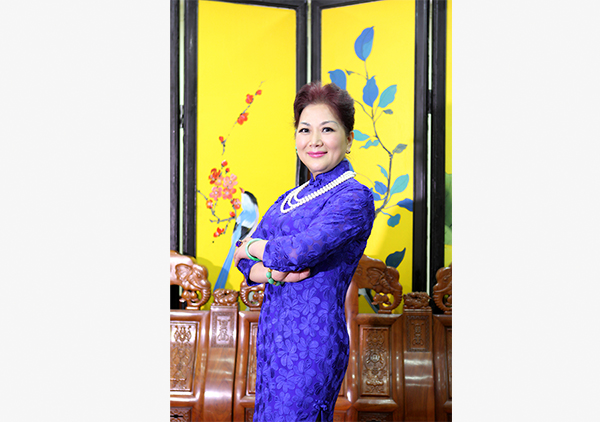 Hu Zhirong, Founder and president of Traditional Therapy Clinics Ltd. [Photo provided to China Daily]
After an IPO in Australia, Chinese foot massage company TTC is looking to expand its clinics in the international market
Hu Zhirong, now 52, was born into a poor farming family in Jiangjin district of Chongqing municipality. From such ordinary beginnings, she has traveled a long way to a fortune now worth an estimated 300 million yuan ($47.2 million).
If only you knew fortunes could be kneaded out of people's feet.
Her extraordinary story begins when she was a girl.
Hu had to work after school every day. Most girls in her village would drop out after junior high, but she was different and loved to study.
So, she persuaded her parents to let her finish high school. Later, she worked as a brick-carrier at a brickworks.
After marrying Guo Jiarong, the couple ran a small business, selling pigs, fruits and flowers. But it was far from profitable.
To boost their income, Guo decided to set up a foot massage service in downtown Chongqing in 1998 after learning the skills from his grandfather, a kung fu master and traditional Chinese medicine doctor. Hu joined him.
Seventeen years later, what started in a tiny shop with just four beds and an investment of no more than 40,000 yuan, has grown into 299-franchisee-strong Traditional Therapy Clinics Ltd, which was listed on the Australian Securities Exchange on September 8. It already had 11 fully owned clinics in China.
At least 15 million people are said to work in this labor-intensive industry comprising thousands of foot massage clinics and chains. Among them, TTC is China's first foot massage company to go public.
"Our public listing proves that a foot therapist like me can also create a big business," Hu told China Daily after the TTC's press conference in Chongqing on Sept 12.
TTC raised A$15 million ($10.7 million) through an initial public offering of 30 million shares priced at A$0.5 each. As the founder and president of TTC, Hu has seen her personal wealth rise.