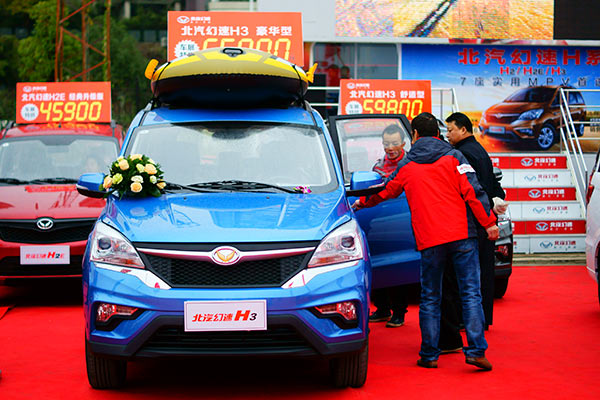 Visitors at a Zhengzhou auto show inspect a vehicle. Chinese auto dealers have seen a major rise in inventory. [ZHOU JIANPING/FOR CHINA DAILY]
Analyst says industry's growing confidence reason for orders
November car inventories in China climbed past October levels after auto dealers increased their orders to prepare for the peak sales season ahead of Lunar New Year.
"The industry is growing optimistic after two months of increasing sales, so dealers are taking in greater inventory. I think the inventory for two weeks is a healthy amount for the dealers," said Jia Xinguang, a senior analyst at China Automobile Dealers Association.
Last month, the association surveyed more than 400 dealers who are members of the organization and found that 87.3 percent of respondents had inventories grow or remain unchanged in November, meaning only 12.7 percent of dealers said their inventories had decreased.
According to the association, inventory readings below 50 indicate a drop in inventory, while marks above 50 reflects a growth in inventory. The reading for auto dealers' inventory last month reached 61.8 points, 7.7 points higher than October's readings.
"The peak sales season is coming in December and January of next year, ahead of the Lunar New Year. Dealers need greater inventory to prepare for the higher number of sales this coming season," said Zeng Zhiling, managing director of LMC Automotive Consulting (Shanghai) Co.
The association's industrial coordination department said compulsory orders by automakers have hurt dealers' confidence in the recent past. Many dealers, it said, are unable to receive shipments of popular vehicle models and are instead receiving models that have not sold well in China.
"Automakers don't care about inventory levels-they still assess dealers mainly in terms of sales volume. Sales targets are set at the beginning of this year, although they have been lowered after several round of negotiations organized by the dealers association," according to the association.
Recently, automakers and dealers have clashed over rising inventory. After negotiations from the end of 2014 to the beginning of this year, dealers in China agreed to receive financial subsidies if automakers eased their sales targets.
Major automakers in the Chinese market have committed large amounts of subsidies or incentives to dealers. Reports in January said Audi pledged 2 billion yuan ($327.8 million) in subsidies while Daimler paid China-based Mercedes dealers about 1 billion yuan.
BMW and Jaguar Land Rover announced they would offer greater support for dealers in July to optimize inventories and increase profitability as part of the negotiations.
Still, the association said it is positive about the dealers' overall business situation for this year, with cash flows improving in recent months.
"Sales volumes and cash returns were substantial. ... There were improvements in the first half and now the business situation is more optimistic after the stimulus policies were put into effect, especially with the sales of smaller cars getting a boost."
Zeng recently wrote in a research report that "October's results clearly demonstrate that the government's incentives have been effective. The ongoing destocking process by carmakers, together with the government's stimulus policies aimed at reviving the automotive industry culminated in a V-shaped rebound in China's passenger car sales during the month of October".
In October, the government halved a tax on vehicle purchases (to 5 percent) for passenger vehicles fitted with engines that 1.6 liters or smaller. The move pushed sales of the small engine cars up 16.33 percent to 1.33 million units that month.