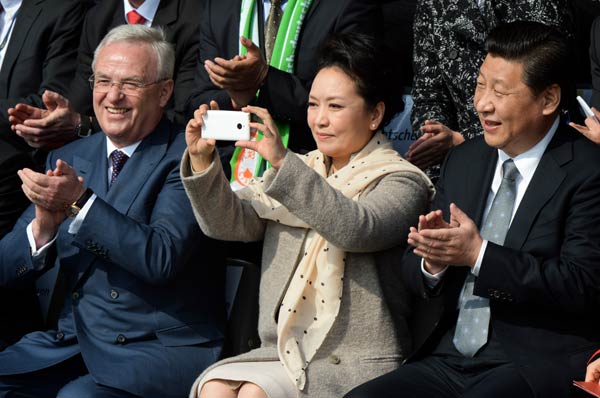 First lady Peng Liyuan takes pictures with the Nubia Z5 Mini handset, manufactured by Chinese cellphone maker ZTE Corp, as she watches a friendly soccer match with her husband, President Xi Jinping, and Martin Winterkorn, CEO of German automaker Volkswagen, in Berlin on Saturday. SOEREN STACHE / AFP VIA DPA
ZTE Corp, the Chinese cellphone maker, may get an unexpected boost in sales thanks to first lady Peng Liyuan.
During President Xi Jinping's ongoing trip through Europe, Peng was spotted taking pictures with the Nubia Z5 Mini handset, one of the latest models by the world's fourth-largest maker of cellphones.
"China Dream starts from 'Made-in-China'," said a post published on ZTE's micro blog after pictures of Peng using the device went viral on the Internet.
Netizens criticized Peng for using an iPhone on a trip to the US last June.
The recent pictures could be a boon to the company only two days after it announced 50 percent growth in shipments this year.
Despite having a bulk of China's mobile phone market share, ZTE has been under pressure to expand its product line, which has mostly been stocked with affordable phones, with more high-end devices.
But ZTE has good reason to feel confident that sales will rise. Peng's fashion choices have driven up sales for various Chinese companies and her popularity at both home and abroad is soaring.
Her choice of outfits during a trip last year to Russia created a nationwide frenzy for domestic apparel brands. After sporting various bags and coats from ready-to-wear line of clothing called Exception de Mixmind from designer Ma Ke, bags and coats from the Guangzhou-based brand sold out on Tmall, a business-to-customer online marketplace in China, just days after the Russia trip.