Managing brands with a license to thrill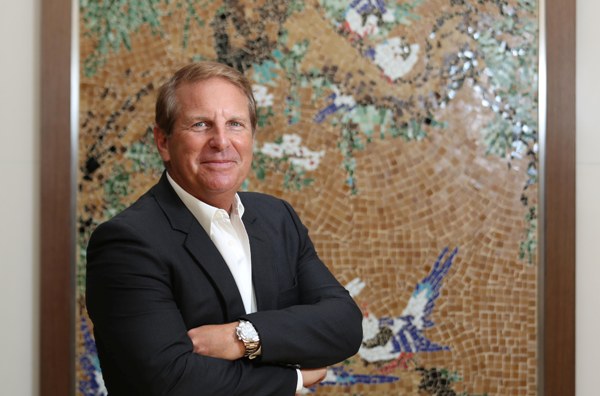 Bruce Rockowitz, CEO of Global Brands Group. PARKER ZHENG / CHINA DAILY
Global Brands group focuses on affordable luxury US marques and globalizing them
When he first came to Hong Kong to play tennis as a teenager in the late 1970s, Bruce Rockowitz didn't become a professional tennis player as he originally planned. Instead, he met Allen Zeman, known as the Godfather of the city's renowned Lan Kwai Fong restaurant and nightlife area. He started working with Zeman and eventually made his name in the business world.
After serving as the president and CEO for Li & Fung Group for a decade, Rockowitz is now running Li & Fung spin-off branded fashion firm Global Brands Group Holding Ltd. He said he likes fashion, likes the challenges presented by his work and wants to make the company a large multinational enterprise.
Rockowitz is not a big fan of so-called "work-life balance." He said he is a businessman who works very hard and adds that he and his wife-the famous Hong Kong-born American singer Coco Lee-are both very hard working people.
He said the couple are used to it and their lives revolve around their work.
Recently, Rockowitz spoke with China Daily about the company's strategy and its business opportunities in the Chinese market. The following are edited excerpts from the interview.
What does Global Brands do? What is the company's focus?
Global Brands is one of the largest brand companies in the world. We focus on affordable luxury US brands and we are globalizing them-brands like Calvin Klein, Tommy Hilfiger, Kate Spade, Juicy Couture-those are the kind of brands we have license for.
We spun off from Li & Fung in July 2014. The past two and half years have been good for the company. We have been very focused on our model, changing our portfolio of brands, improving it and improving our margins.
Over the past two years, we've restructured our company, restructured our brand portfolio, built our management team, built out our offices around the world, and we divided ourselves into four vertical operations: Kids, Footwear and Accessories, Men's and Women's Fashion and Brand Management.
What is the company's business model?
We license many brands, after that we control the brands, and we pay a royalty. But we design, we produce, we do the logistics, and we act like a brand company would do and we sell, depending on the type of the brand, to everyone or certain types of stores. The higher the brand is, the fewer retail stores we sell to and we may sell lower brands to Wal-Mart.
The beauty of our company is that we have a very wide distribution network and our business is predominantly to sell to other retailers. We are a very large wholeseller.
What is your opinion about the global market?
The US is the largest market of our business, and the US market is strong, relatively speaking. The economy is good, generally, the US is in a great shape for consumption, and it is the largest per capita consuming country. The unemployment rate is down, the interest rate is low.
Europe is in the early stage of recovery and the recovery process will take many years. Our business there is relatively small, but we had a very good year in Europe, compared with the previous year.
How about the Asian market, particularly China?
Asia is very new to us, ironically. We've been here 110 years, but we always produced here, we didn't sell here, we didn't design here. But in the past four years, we have been developing our Asian business and we have offices in different parts of China. Our China headquarters is in Shanghai. Currently in Asia we are focusing on China and South Korea.
In China we are focused on children's clothes and brands management.
What is Global Brands' future plan in China?
We are going step by step in China. It takes time to get the right people in China, and to build the right platform, what we don't want to do is fail. It is easy to say that we can do it.
It is all about people in our business. We are hiring and we are developing people. As our platform is built out more, we will bring more and more US brands to China.
Ultimately, we also want to take Chinese brands to the US, when there are more famous Chinese brands. Our network should not be just one-way; it is going to go two ways to help develop Asian brands in the US and in Europe.
What is the company's strategy in China?
We are targeting mostly mid-level consumers, not luxury consumers. We will focus a lot on online business, and on retail selling to department stores and hyper markets like Wal-Mart, depending on the brand. We are also opening up some of our own stores that are connected to online sales, so that shoppers can come to our store to see what the brand is about, try things on, and maybe just order it and have it delivered to the house. It's a more interconnected, multi-channel way of buying brands.
Currently e-commerce accounts for 15 percent of our revenue.
We are working with the two major e-commerce players in China, Tmall and JD.com Inc. We were there at the night of November 10, the night before the kick off of November 11-the online shopping festival. My wife Coco was singing that night.
What is your business philosophy?
The one thing I believe in is doing the right thing. So everything we do, should be right for the employees, right for the shareholders, right for the customers. That's very important. In order to get there, I surround myself with the best people, people who are better than me, in many ways. I also give people relatively a lot of freedom.
My employees and I all know that we are part of a bigger story. We are in this together, and creating something that is bigger than all of us. We are changing something, changing the industry.
In the sourcing business, we changed the industry. I want to change the brand industry and I think all the people around me want the same thing. They are excited about it.
What has led you to your success?
One thing for sure is we all work very hard. Not just me, the whole company, the people around me. Being a good person is also very important. Being honest and always doing the right thing, even if it costs you money, because your word and your name are more important than money.
The more you do that the more you can build your own brand and people believe in you.
My wife believed in me from the day I met her and people around me believed in me. The key is not to lose that goodwill.
At the end of the day you only have your brand and your image.
How do you maintain the balance between work and life?
It's very hard to keep a balanced life. My wife doesn't keep a balanced life, either. She works really hard, too. People thought that when she married me she would become a stay-at-home mum and wife. She did that for a little while, but not for long. She chose to work really hard, not for money but for what she loves.
I'm the same way and my children are used to that.
My wife and I are used to each other. Our life revolves around her work, my work, and the kids, so it's integrated. It is better now that my older daughter works for Global Brands in London.
It is also very important to stay healthy in order to keep a balanced life. To exercise your body and you mind is very important.
What suggestions would you give to ambitious youngsters in China?
The world has changed a lot. I always believed in being a pioneer in whatever I do. It could be to start something in a new city in China, or it could be a new type of technology. If you want to go into business, you need to find something that people don't know they want yet.
Getting into your own business is very difficult. I would suggest young people go work for somebody first before they start their own business. Youngsters should work hard, they should think for long term, and they may have to work for somebody for 10 years before they have the background and experience to go out and have their own business, because starting a business is very tough.
CV
Age: 58
Nationality: Canadian
Career:
July 2014 onward: Chief executive officer, vice-chairman and an executive director of Global Brands Group Holding Ltd
2011 to 2014 --- CEO and Group President of Li & Fung Group.
2004-11: President of Li & Fung Group
1981-2000: Chief executive officer of Colby International Ltd
Family: Married to Coco Lee since 2011