Stealing spotlight with best sports cars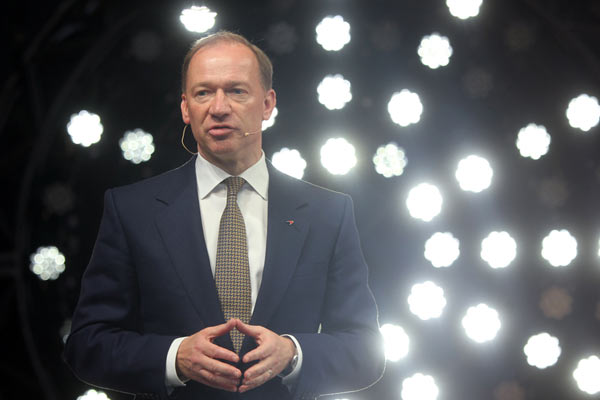 Mike Flewitt, chief executive officer of McLaren Automotive, unviels the company's automobile at the Javits Center in New York, on April 2, 2015. [Photo/VCG]
Luxury sports car brand McLaren has gone a long way from selling its first car in China four years ago to now generating a major chunk of its global sales from the country, riding on the keen interest in the marque shown by China's rapidly growing wealthy consumers.
The super sports brand experienced a stellar year in 2016 with a 99.3 percent increase in global sales to 3,286 cars. In China alone, McLaren sold 228 cars last year, a significant addition to the total of 300 cars it sold in its first three years in China.
It's an achievement that is a little hard to believe given McLaren's China office, in Shanghai, only employs 10 staff who are mainly in charge of the sales, marketing, after sales services and relationship management.
The company works with a network of 14 Chinese retailers to distribute its cars.
"Affluent Chinese supercar customers appreciate the attributes of the McLaren car and our cars are well suited to this developing market," said Mike Flewitt, chief executive officer of McLaren Automotive.
"As a result, we are very confident about our prospects going forward," he added.
Recently, Flewitt spoke with China Daily about the luxury car's strategy and business opportunities in China. The following are edited excerpts from the interview:
How would you describe your company's prospects in China, given the current economic situation?
At McLaren Automotive, we feel very confident about our future in China. We are a relatively new company and we sold our first car in China in September 2013, so went later into the market than most of our competitors. We have seen sales of a number of competitors have declined. In contrast to that, in 2015, our sales grew by 56 percent compared with 2014. The awareness of the McLaren brand is developing well through a number of marketing activities, including motorshows and retailer activity. As a result, we are very confident about our prospects going forward.
What has been your company's biggest achievement in the mainland market?
In my view, setting up a good retailer network in any market, especially a growing market like China, is vital to the success of any company and is one of our greatest achievements. We have worked hard in a very short period of time to find good quality retail partners who can represent the McLaren brand well. We have 14 retailers across China and these retailers are growing sales dramatically. As a relatively new competitor in the marketplace, these retailers will be key to developing the awareness and consideration of McLaren in this rapidly developing marketplace and so their achievements will reflect our achievements.
In your view what is the secret of your business' success in China?
Very simply, understanding the needs, desires and expectations of our customers. Only in this way can we deliver products that meet those expectations. I and all of my executives frequently meet our customers face-to-face at company-organized events, as well as social gatherings, to listen and understand exactly what they think about us and want from us.
What is an example of McLaren's customer-centric approach in China?
An example of this was attending the Beijing Autoshow. It was only the second time we had displayed cars in Beijing. We had an excellent presence at the show and we invited our retailers and customers to our stand to debut the new McLaren 570GT to Asian customers. While we were in Beijing, we also took the time to have a gala dinner with our affluent customers, to show them how grateful we were for their custom but also to help us understand how we can improve what we do for them. We try and have these dinners and social gatherings wherever we are in the world, but it's especially important in China because the landscape and culture changes so quickly. These meetings also help them understand more about who McLaren is, so it's a mutually beneficial outcome.
What essential leadership qualities do you consider important when leading your team to grow in the Chinese market?
We have recruited very successful leaders in China. A very clear understanding of the local market requirements is vital, as well as the cultural sensitivities and differences between China and other parts of the world. In addition, as in other parts of the world, it's key to understand how the affluent classes behave, spend their free time and so on. Only in this way can we hope to be talking to them in a way that they understand and appreciate, and build strong, long-term and trusting relationships with customers.
How does your China market strategy fit in with your work in the Asia-Pacific region?
China is part of our Asia-Pacific region and we have populated the leadership roles within that regional team with international people who understand the markets through experience with competitor brands, as well as Chinese employees who understand what Chinese buyers think and want. This balance of international experience and local knowledge has served us very well and has helped deliver the significant sales growth we are experiencing.
How do you motivate your international team?
Different people need different motivation. We are still a relatively new and small company so I know most of our employees personally. Whenever I travel abroad to events or meetings, if possible I try to have a meeting or dinner with the local teams to get understanding and feedback from them on performance and how we can make their lives easier. In this way, everybody can feel that their ideas are being listened to and each and every one of them is inputting into the future of the company. In addition, we are fortunate to have a very motivational and passionate brand to work for, and the cars that we build are some of the most aspirational products in the world. All of our employees feel a tremendous sense of pride and motivation to be working for a globally recognized brand like McLaren. This combination of drivers makes working for McLaren a very motivational and enjoyable experience.
What do you think about the Chinese Dream? What are the dreams you have for your company in China?
As a young company, I have many dreams and aspirations that I would like our company to fulfill. Mainly I would like us to ensure that our potential in this very dynamic and growing market is exceeded. We have started well and made some significant developments in a short period of time.
What are McLaren's long-term sales goals in China and globally?
Globally, and in China, we have to remain focused on our objectives if our longer term sales ambitions are going to be achieved. I am very confident that we build the best sports cars in the world, but our brand has varying levels of awareness across the globe. In some markets, we have high levels of awareness thanks to an understanding created by our long-term participation in Formula One. But in markets where awareness of Formula One and wider motorsport is low, as a young company, we have to develop that awareness. I've said this before but it's a vital ingredient of our future success. The customer awareness of McLaren building the world's best sports cars is how we will fulfill our potential.
What are your hobbies? How do you spend your time outside of work when you are in China?
As CEO of a young and dynamic company, I don't have a huge amount of spare time. I try and get as close to as many of our customers as possible and this often entails travelling to, or attending events with McLaren customers over the evenings and weekends. When I'm travelling in China, I'm keen to understand how we can improve what we do for them. When I am at home in the UK and have time, I am an avid motor racing fan, as you might expect doing the job I do and for a company like McLaren, and so I enjoy racing my own historic racing cars whenever I can.