Nissan CEO duties split after Mitsubishi acquisition
Nissan Motor completed its acquisition of a $2.3 billion stake in Mitsubishi Motors, clearing the way for Carlos Ghosn to take over as chairman of a scandal-plagued partner and embark on his bid to turn around a third major automaker.
Ghosn, already chairman and chief executive officer of the Renault-Nissan Alliance, promoted Chief Competitive Officer Hiroto Saikawa as co-CEO of Nissan. The move allows Ghosn to dedicate more time to repairing trust in Mitsubishi after a months-long fuel economy scandal that could lead to the carmaker's first annual loss in eight years.
"I know my limits," Ghosn, 62, said Friday in an interview with Bloomberg Television from Nissan's headquarters in Yokohama, Japan. "Obviously, this move is taking into consideration short-term needs but also it is in the perspective of the continuous development of our alliance."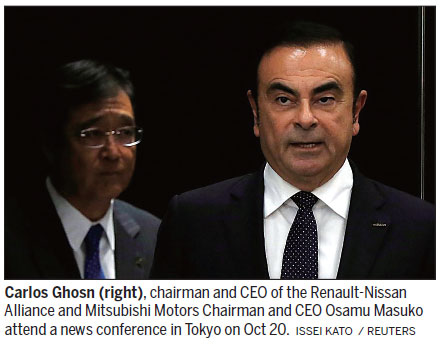 Nissan is coming to the rescue after Mitsubishi's admission that it improperly measured fuel economy and manipulated test data. A push toward electrification and autonomous-driving technology is leading smaller carmakers to join with bigger rivals to share resources and save costs, exemplified by Suzuki Motor's talks to form an alliance with Toyota Motor.
Mitsubishi and Nissan have agreed to share plug-in hybrid and autonomous-driving technology, to finance company resources and a multipurpose vehicle model for Southeast Asian markets.
Mitsubishi sees the alliance with Nissan leading to 25 billion yen ($241 million) in synergies for the fiscal year ending in March, said Osamu Masuko, chairman of Mitsubishi, who will remain president while ceding the chairman role to Ghosn. Nissan estimates 60 billion yen in savings next fiscal year.
"With time, we are going to develop much more synergy," Ghosn said at a press conference on Thursday. "What we see today is low-hanging fruit."
A Renault-Nissan-Mitsubishi alliance creates the world's fourth-largest auto group, after Toyota, Volkswagen and General Motors. One of the first decisions Saikawa, 62, will have to make along with Ghosn will involve Nissan's presence in the UK in the wake of the country's vote to leave the EU. The nation's top auto assembler will determine next month whether to continue making Qashqai SUVs at its Sunderland plant, Ghosn said.
Executive changes
At Mitsubishi, Ghosn and three other Nissan executives will join the board of directors. Nissan Chief Performance Officer Trevor Mann will become the chief operating officer at Mitsubishi.
Masuko wanted to leave his job to take responsibility for Mitsubishi's fuel economy wrongdoings, which include improper testing going as far back as 1991, according to Ghosn, who said he asked his counterpart to stay.
"Ghosn and Masuko have developed a sense of trust," said Koji Endo, a Tokyo-based auto analyst at SBI Securities. "Ghosn will need Masuko in that position to coordinate with his restructuring job. That's better than finding a new guy that he hasn't worked with before."
Margin boost
Nissan paid 468.52 yen per share for about 34 percent of its outstanding stock, Mitsubishi said in a statement. Partnering with Nissan will boost Mitsubishi's operating profit margin by about 1 percentage point this fiscal year and at least 2 percentage points in each of the following two years, Masuko said. The company forecast a steeper loss for this fiscal year on Wednesday.
Shares of Mitsubishi have slumped 48 percent this year in Tokyo, while Nissan has declined 21 percent. The TOPIX index dropped 11 percent.
(China Daily 10/24/2016 page18)
Today's Top News
Editor's picks
Most Viewed