Home / Business / Biz Photos
Tech companies offer bonuses to motivate employees after holiday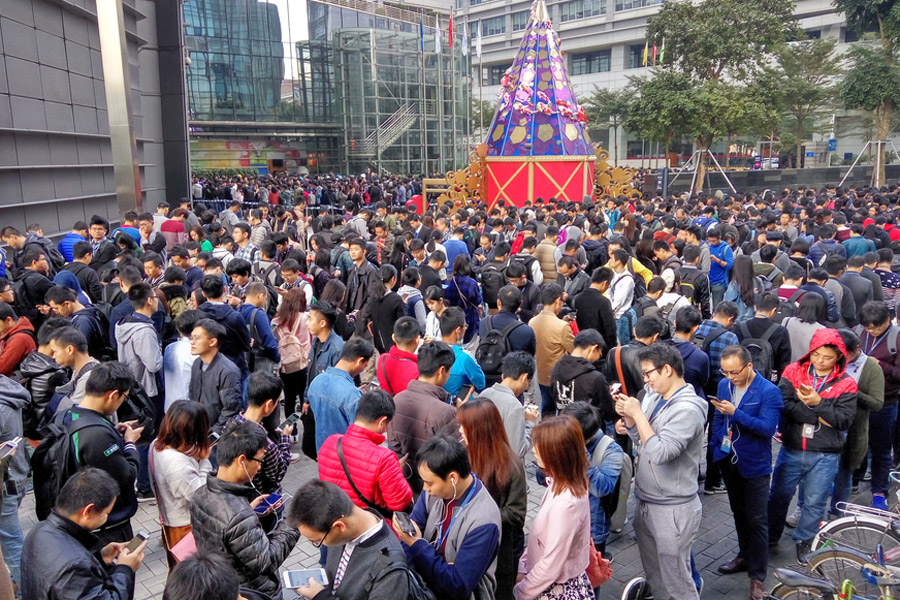 Tencent's employees queue up to get hongbao (red envelopes containing money) outside the Tencent building in Shenzhen, South China's Guangdong province, on Feb 4, 2017. Handing out hongbao personally to employees on the first working day after the Spring Festival has become a tradition of Tencent's CEO Pony Ma. [Photo/VCG]
As most Chinese people reluctantly went back to work at the end of last week, some companies gave their employees something to look forward to.
Handing out hongbao - red envelopes containing money - personally to employees on the first working day after the Spring Festival has become a tradition for Tencent boss Pony Ma.
On Saturday, the eighth day of the first lunar month and the first day back at Tencent, the line of the employees waiting to collect hongbao from Pony Ma stretched over tens of floors to the street in Shenzhen, South China's Guangdong province, according to a report by sohu.com.
Besides the hongbao given by Pony Ma in person, each of Tencent's employees also received digital hongbao worth 200 yuan ($29.21) on QQ and WeChat respectively.
In Beijing, Lei Jun, founder and CEO of China's mobile company Xiaomi Corp, also handed out hongbao in the office on Friday, the company's first working day after the Lunar New Year holiday.
Employees of Fliggy.com, the travel website of e-commerce gaint Alibaba, even received lottery tickets as a kick-off bonus.
As a tradition, especially in Guangdong province and Hong Kong, the kick-off hongbao or kick-off bonus expresses the good wishes for the company's booming business.