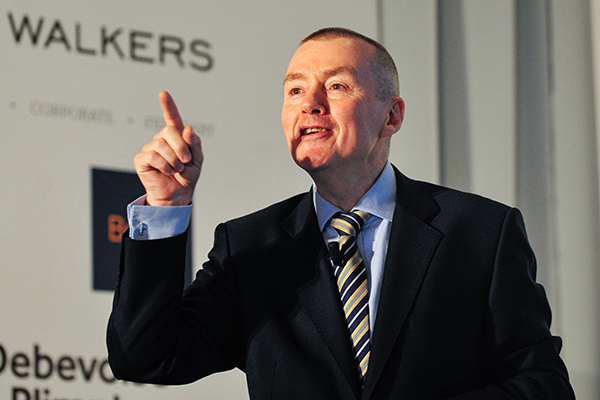 Willie Walsh, chief executive officer of International Airlines Group. [Photo/Agencies]
China market will givethe entire global travel industry new impetus for future growth, says IAG's chief executive
At 55, Irishman Willie Walsh can take some satisfaction over a career that began when he joined Irish state airline Aer Lingus as a trainee pilot straight out of high school at the tender age of 17.
He qualified as a Boeing 737 captain and now, 38 years later, he's reached the exalted position of chief executive of the International Airlines Group, which consists of British Airways, Spain's flag-carrier Iberia, and his first employer, Aer Lingus, which he brought into the IAG fold after the group won a takeover battle last September.
When he joined the management team at Aer Lingus and became CEO in 2000, he radically reshaped the airline, cutting staff, rationalizing aircraft types and selling off non-core assets, including the art collection adorning the boardroom walls.
But he left in 2005 after a dispute with the Irish government, then the major shareholder, which rejected his plans for a management buyout.
He was hired by British Airways as CEO in 2005, and immediately instituted a program of change which helped revive the UK flag carrier's fortunes after it was hit by a global turndown in sales.
He successfully oversaw the merger with Iberia, forming IAG and becoming the CEO in January 2011.
International Airlines Group is one of the world's biggest airline groups, operating 529 aircraft to 274 different destinations and carrying almost 95 million passengers annually.
Walsh spoke with China Daily about China and his group's plans for the Chinese market. The following are edited excerpts of the interview:
What are your business strategies as you readjust to the new Chinese economic realities like the New Normal and the Belt and Road Initiatives?
While the pace of growth may be slower than in the past, consumption is still quite strong and there will be opportunities aplenty in China's new and sustainable economy.
According to the World Travel and Tourism Council, Chinese travelers spent $215 billion abroad in 2015, 53 per cent more than in 2014.
We're optimistic about the new trend of China's economy and having served China for more than 35 years. China is an integral part of IAG's long-term global strategy.
In addition, the Belt and Road Initiative for the civil aviation sector provides enormous opportunities, especially for European airlines.
In practical terms we will continue to grow the group's operations in China. British Airways flies to Beijing, Shanghai and Chengdu and this year will open two Chinese cabin crew bases in Beijing and Shanghai as well as fly the most technologically advanced aircraft in its fleet-the Boeing 787-9-on the Shanghai-London route.
Also, Iberia launched direct flights between Shanghai and Madrid on June 28 and we are looking at the possibility of Aer Lingus flying to China at some point in the future.
How do you assess the prospects of your business in China in conjunction with the Chinese market and economy?
We're very positive about the long term potential of the Chinese economy and China is already one of our fastest-growing markets, with more outbound travelers than any other country in the world. This figure is set to rise considerably and the China market will give the entire international travel industry new impetus for future growth.
However one area that concerns me is the urgent need to improve the visa system for Chinese travelers to the UK.
Progress has been made to simplify the process, including the introduction of a two-year multiple-entry visa, but we believe more can and should be done by the British government to encourage Chinese business and leisure visitors.
If the US has a 10 year multiple entry visa-why can't the UK?
What's you biggest achievement as the CEO?
As IAG's CEO, I'm especially proud of the dividend payment which we made for the first time at the end of 2015 after five years of the company's existence. It represents a significant milestone in our business development, particularly because we believe it is sustainable.
What's the secret of your business success in China?
We are committed to further strengthening our presence in China by meeting the growing demand for travel, providing customers with better choices, greater flexibility and a top quality onboard experience tailored to their needs.
Our customers appreciate the local touch during their flight and for this reason British Airways has invested in a number of new services so its customers feel more at home when they choose to travel with the airline.
For example, they have improved their Chinese catering options, added extensive choices of Chinese-language movies and TV shows onboard and launched a Chinese edition of High Life inflight magazine. With more Chinese cabin crew being recruited, the airline can offer bespoke services for Chinese customers.
What's an effective leadership for leading a company engaged in China business? How has your style of management changed over time in China?
If the head of the entire company is serious about its China market development, their determination and commitment should cascade to the entire company and be evident in the company's strategy.
Since 2011, we've escalated our growth in China and I have made numerous visits to explore opportunities. We've also put in additional resources to fuel this growth. For example, British Airways appointed an executive vice president for China in September 2014.
Based in Beijing, he spearheads our market development strategy in China and is the highest ranking executive we have ever appointed for this market.
How do you get along with local partners?
We are in discussions with China Eastern and China Southern about ways that we can work more effectively together.
We have a long history of working with our valued partners in China.
Through our partner network, travelers from Chongqing, Changsha, Fuzhou, Hangzhou, Ningbo, Nanjing, Sanya, Wuhan, Guangzhou and Xiamen can book flights on ba.com to travel to the UK and Europe via Beijing, Shanghai or Chengdu on Air China, China Eastern Airlines or Hainan Airlines, or via Hong Kong on Cathay Pacific or Cathay Dragon.
In April, British Airways' frequent flyer programme Executive Club announced a strategic partnership with Mileslife, an innovative mileage earning platform in China.
Members of Executive Club in China can now collect Avios points, the currency used at Executive Club, via this new platform from their everyday spending at handpicked merchants, including restaurants, spas, B&Bs, hotels and resorts in China.
How do you motivate your international team?
Clear targets are essential. It's important to trust the capabilities of the people that are around you to create a really high-performing business where talented people can work to the best of their ability.
How do you handle hardships and setbacks, if any?
The value of making a mistake is learning from it. The only way to recover is recognizing that things weren't right and getting them fixed quickly.
What do you think about the Chinese Dream? What are your dreams or ambitions in China?
I would like to see China achieve its Chinese Dream sooner rather than later. This will not just benefit the Chinese people but also the entire world and enable us to play a larger part in the process.