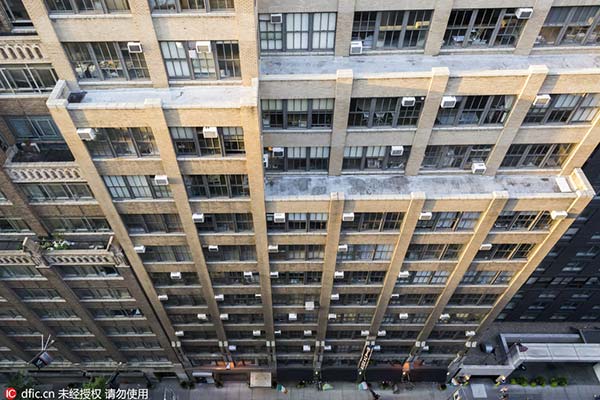 Air conditioners sprout from windows in an office building in New York on July 21, 2016. [Photo/IC]
Chinese investors pumped $17 billion into overseas property investment during the first five months, becoming the world's second-largest source of outbound property investment.
The United States retained its top spot with $19 billion, according to a report released by DTZ/Cushman & Wakefield, a global leader in commercial real estate services.
Outbound Investment continued its rapid growth in China, the report said. The total outbound investment from January to May this year has accounted for the 65.6 percent of the total investment of 2015.
The US remained the most attractive destination for Chinese investors thanks to strong dollar appreciation, a recovering US economy and relatively low financing costs.
More than six out of 10 Chinese investments (62.3 percent) totaling $10.6 billion went to the United States over the first five months of the year, according to the report.
Office investments led the way at a 50 percent of all Chinese outbound real estate transactions during the first five months of 2016, up from 40 percent a year earlier.
Top destinations for office investments were Hong Kong and the US, accounting for more than 80 percent of transactions by Chinese investors.
Hotel investment was a hot asset class, receiving $7.1 billion in cross-border Chinese capital during the first five months of 2016 and accounting for a 42 percent share by type of property investment.