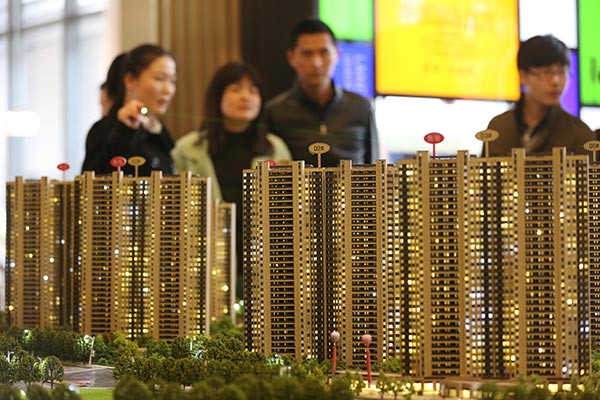 Potential homebuyers examine a property project model in Nanjing, East China's Jiangsu province, Feb 28, 2016.[Photo/VCG]
BEIJING - Investment in China's property sector and property sales in the first half lost momentum from the first five months, but destocking has made new progress, official data showed Friday.
Property investment rose 6.1 percent year on year in the first half, down from 7.2 percent in the first four months and 7 percent in the January-May period, according to the National Bureau of Statistics (NBS).
In the first half, investment in residential property grew 5.6 percent, representing 66.8 percent of total property investment, the NBS said.
Property sales also slowed during the period, but the floor area of unsold property around the country continued to drop, showing positive results for China's destocking efforts.
In terms of floor area, property sales jumped 27.9 percent in the first six months, slower than the 33.2-percent gain in the first five months.
Sales revenue surged 42.1 percent in the first half, compared with the 50.7-percent gain in the first five months, the NBS said.
By the end of June, 714.16 million square meters of property was still unsold in China, down by 7.53 million square meters from a month earlier.
With a huge supply glut, the government has taken a raft of measures to support reasonable housing consumption and reduce inventory, such as lowering taxation and down payment restrictions.
The country has vowed to continue to prioritize property market destocking in the latter half.
The property data were released as part of a series of economic figures unveiled Friday by the NBS, including GDP, retail sales and industrial output. China's GDP expanded 6.7 percent year on year in the second quarter, steady from the first quarter.