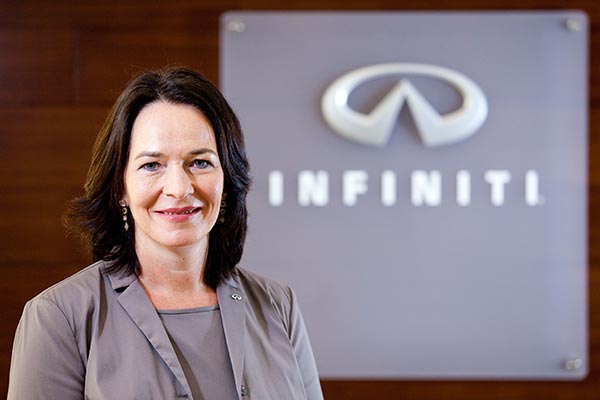 Gaby-Luise Wuest, head of Dongfeng Infiniti Motor Co.
Gaby-Luise Wuest is preparing to brush up her Chinese language skills after she was appointed head of Dongfeng Infiniti Motor Co on a chilly afternoon last week in Beijing.
Wuest said she can understand some spoken words but does not speak the language. Before her appointment, she served as Infiniti's chief operations officer in Hong Kong and before that worked for BMW's joint venture on the mainland.
Rather than starting out with the Chinese words nihao and xiexie, meaning "hello" and "thank you", some industry insiders joked she had better start with the phrase gan ai, which literally means "dare to love", and is the catchphrase and subsequent campaign her Mandarin-speaking predecessor Daniel Kirchert initiated in January 2014 to promote Infiniti in the local market.
It was announced on Friday that Kirchert will remain in China as the chief operations officer for a newly formed electric carmaker under the umbrella of Harmony Futeng.
The gan ai campaign Kirchert created and nurtured has worked well so far, turning the once obscure brand into the fastestgrowing marque in China's premium car segment for two consecutive years.
In 2015, Infiniti sold 40,188 cars on the Chinese mainland, a 33.8 percent surge year-on-year and six times the overall growth rate of the premium car segment in China.
Infiniti's president Roland Krueger credited that performance, at least partly, to the strategy, and plans to incorporate it into the brand's global positioning. He said the slogan, especially the "dare to" aspect, is true to the image of the brand worldwide.
Despite Kirchert's resignation, Krueger said Infiniti's roadmap would not change in China, its most important market worldwide.
In addition to the gan ai strategy, other elements of the roadmap include a sound partnership with Dongfeng, a portfolio of appropriate localized models and good relations with its dealers.
Krueger told China Daily, "We have set out a very clear direction for Infiniti in China, and this strategy will be continued at the same pace, with the same backup and support from global Infiniti."
He stressed that "dealerships are an integral part of our business", saying they are "what is important for our continued success". On the evening of her first day on the job, Wuest made a point of meeting key dealers in Beijing.