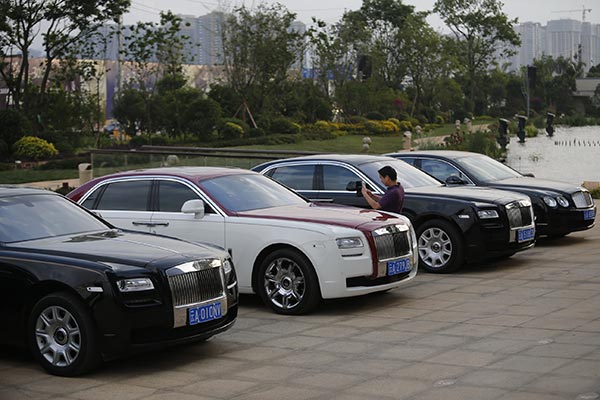 A row of Rolls-Royce vehicles in front of a hotel in Kunming, Yunnan province. [Wang Yuheng/China Daily]
Significant headwinds from China's economic slowdown and its yearslong anti-corruption campaign have stalled the nation's luxury vehicle market and its automakers.
Cars in the luxury market, such as those produced by Rolls-Royce and Ferrari, carry a price tag that ranges from 3 million yuan to 8 million yuan ($1.2 million). Premium market vehicles, such as cars by BMW and Mercedes-Benz, can cost from 260,000 yuan to 2 million yuan.
Yale Zhang, managing director of the consultancy firm Automotive Foresight (Shanghai), said the top luxury automakers in China began performing poorly last year.
"There were sales drops for the top luxury vehicles in China," he said, adding that officials and the wealthy were not willing to flaunt their wealth.
"It became meaningless to spend 10 million yuan or 20 million yuan on a car," he said.
The premium auto market in China, on the other hand, is healthy and will continue to grow by double digits, although it, too, is under pressure by the country's economic slowdown, Zhang said.
On Jan 11, Rolls-Royce announced that its sales total dropped by 54 percent in China last year when compared to 2014 figures. The marque did not disclose its sales figures in China, although Quattro Ruote, a magazine that covers the auto industry, said Rolls-Royce sold 395 cars in China last year and 860 units in 2014.
According to the magazine, China was Rolls-Royce's largest market worldwide in 2013, but that its sales began falling in 2014.
"With the country devoting greater effort to fight corruption and supervise and control high-end consumption, high-end customers, including super luxury vehicle buyers, are being affected," Quattro Ruote wrote recently.
Globally, Rolls-Royce delivered 3,785 cars to customers last year, the second-highest sales total in the marque's 112-year history. The company said it achieved strong performances last year in all regions except China.
Bentley's situation is similar. It sold 1,615 cars in China last year, a sharp decline from 2,560 in 2014. But it sold 10,100 cars worldwide in 2015, the third year in a row that it sold more than 10,000 cars.
The Volkswagen Group, Bentley's parent company, announced on Jan 12 that although Bentley has not been immune from the current challenges in China, it is confident Bentley will have long-term success.
According to a Bentley owner who wished to be anonymous, a few Bentley dealers in China have begun offering steep discounts. A Bentley Flying Spur W12, for example, was being sold at about 3.2 million yuan or 3.3 million yuan, much cheaper than its retail price of more than 4.5 million yuan.
A Bentley spokeswoman told China Daily on Jan 20 that the marquee is still the leader in China's ultra premium vehicle market. She said Bentley has always focused on customer-oriented services instead of mass production, making its sales figure in 2015 a moot point.
She added that Bentley has high expectations for its sales total this year, especially with the Bentayga, its newly released SUV. She said pre-orders of Bentayga have exceeded the quota for the Chinese market.
The spokeswoman did not disclose the number of pre-orders or the quota figure.
According to LMC Automotive Consulting (Shanghai), China sold 1,744,103 premium cars through the first 11 months of 2015 and sold 912,203 units over the same period in 2014.