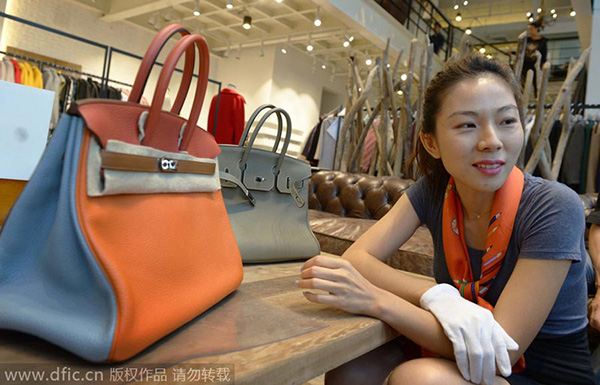 Items that used to be viewed as just luxury, maybe excessive, spending have turned into very attractive investment targets in some cases. [Photo/IC]
For Chinese, online shops are quickly evolving from simply a means to get a bargain to somewhere movers and shakers can splash out on pricey clothes and accessories.
According to a study published by auditor KPMG earlier this week, Chinese buyers of luxury items are increasingly favoring online retailers over brick-and-mortar stores, which will account for half of Chinese luxury spending by 2020.
Surveying 10,150 Chinese consumers of luxury goods in 2015, KPMG found that nearly one third of their luxury spending was online.
The respondents' average spend per luxury item was 2,300 yuan ($350), and the averaged highest amount they said they would be willing to spending online on each order was 4,200 yuan, more than double the figure in 2014.
The best-selling luxury items online were cosmetics followed by women's shoes, bags, leather products, women's clothes and accessories.
Consistent with the overall development in China's e-commerce, luxury shoppers are increasingly turning away from laptops to mobile gadgets, according to the study.
Despite moving online, luxury shoppers still prefer overseas retailers to domestic peers. Two thirds of survey respondents said they shop more from overseas online retailers.
An earlier report by Beijing-based consultancy Fortune Character Institute found that 91 billion yuan's worth of luxury purchases, or 78 percent of all Chinese luxury consumption in 2015, happened overseas.
In a bid to bring some of that outbound consumption back home, authorities have reduced tariffs on a number of imported products and encouraged cross-border e-commerce. A growing number of domestic online retailers are working with overseas retailers and brands to sell imported products, including luxury items.
Another factor impacting Chinese consumer's decisions over where to purchase luxury goods is changes in foreign exchange. "Chinese consumers will move fast to take any arbitrage opportunities presented by changes in foreign exchanges," KPMG said in the study.