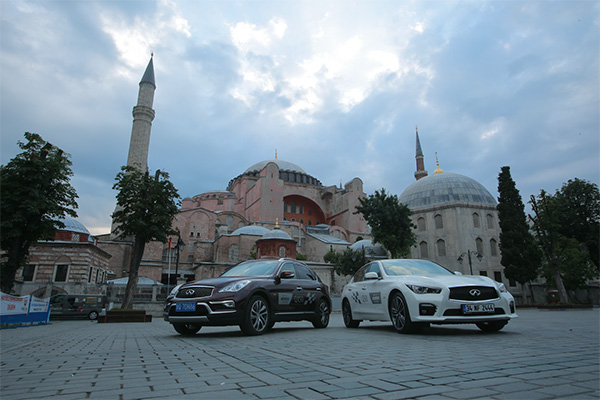 The Infiniti Q50 (right) and QX50 cars are popular models with Chinese customers. The Q50L and QX50 are produced in Xiangyang, Hubei province. [Photo provided to China Daily]
Focus on customers propels performance of automaker
Premium auto brand Infiniti is growing fast in China despite sluggish growth in the world's largest auto market.
The marque sold 3,740 cars on the Chinese mainland in October, soaring 29.2 percent from the same month a year earlier.
The performance brought the brand's sales in the first 10 months of 2015 to 32,169 units, more than the total sales in all of 2014 and a 35.8 percent surge year-on-year, a stark contrast to the Chinese auto market's 1.5-percent increase in the same period.
"Our performance has grown despite the market slowdown and that means more and more Chinese customers have fallen in love with our brand and products," said Daniel Kirchert, president of Dongfeng Infiniti.
"Thanks to the full support of our two parent companies, we have localized two models in one year since the establishment of the joint venture and they have outnumbered imported models in our sales."
Dongfeng Infiniti was established in September 2014, with its first locally made Q50L model rolled out in November of the same year and the SUV QX50 in March 2015.
About 2,400 locally made cars were sold in October, accounting for more than 60 percent of Infiniti's sales for the month in China. The Q50L has been the most popular model, with its monthly sales exceeding 1,000 units for eight months in a row.
Focus on quality
The popularity of its locally made cars lies in Infiniti's focus on consistent quality worldwide.
"Infiniti has four plants worldwide-in the United States, Japan, the United Kingdom and here in China-and I have been to all of them. I am confident in our Xiangyang plant. We made a lot of preparations two or even three years before the plant started production to ensure it meets our global standards," Kirchert said.
A 2014 internal assessment gave the Xiangyang plant a score of 4.5 out of 5 points, the same score as its benchmark plant in Japan.
The Xiangyang plant in Hubei province also boasts an army of some 2,500 experienced workers, with 36 designated jujiang, or master workers.
On average, jujiang have been in their fields for at least 10 years and are extremely skillful and critical to ensure and improve the quality of the vehicles being produced.