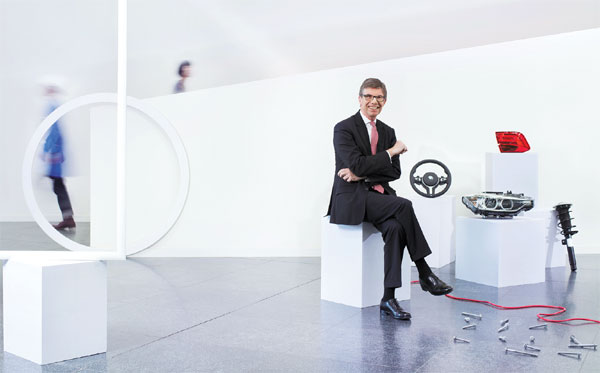 President and CEO Olaf Kastner believes an inspirational atmosphere is important for worker productivity. [Photo provided to China Daily]
Greeted in the spacious and stylish lobby by paintings, statues and installation works, visitors to BMW's Tiexi plant in Shenyang, Liaoning province might think they found a modern European museum by mistake.
Many of the works are from art students at the city's Luxun Academy of Fine Arts and the Akademie der Bildenden Kunste in Munich. They depict the relations between man, nature and industry from Eastern and Western perspectives, all parts of an effort to further inspire the workers to produce highly aesthetic BMW models.
But more compelling than the works in the lobby might be the conveyor belt overhead that silently transports car bodies from the paint shop to the assembly line.
Imported from Germany, the belt saves the cost of vehicle transport from different workshops and offers workers a chance to see their own craftsmanship as they come to work and leave for home. It reflects the autoworker's long-standing concept of instilling originality into production and management.
Top management at BMW believes inspiration is important because they are convinced that dull work reduces spirit and productivity.
"The traditional mechanical way of production allows no room for passion and devotion, without which workers cannot make great accomplishments," said President and CEO of BMW Brilliance Olaf Kastner, citing scenes from the classic film Modern Times by Charlie Chaplin.
"In modern society people spend more time at work than at home. They need an inspirational atmosphere and we are obliged to provide them with such a workplace," said Kastner.
In fact he thinks art has a close relationship to industry. "Let's take Chinese papermaking for example. It marked great technological progress and at the same time offered a chance to spread literature and art."
Passion for creation
"Both art and industry create value. Artists and engineers extend the frontiers of beauty as well as science and technology. Both of them need to have passion for creation," said the CEO.
That passion is evident at the Tiexi plant, which has the youngest workers of any BMW manufacturing facility worldwide. Impressed with the modern facility, they quickly mastered the skills required to offer top-class models to the Chinese market.
"When I work with robots at the workshop, they are like my kids, creating a spectacular scene," said a young man born in the early 1990s.
Chefs at the plant's canteen could be termed neo-impressionists as they creatively update the menu.
They provide Chinese and Western food as well as snacks from around the world at a canteen that can cater to 7,000 diners at a time.
Food that pleases both the eye and the palate is definitely a piece of art, said the canteen manager.
She said some chefs are Michelin-starred, joking that those who try Western food at the canteen no longer order it at restaurants outside.
BMW's artistic pursuits are not confined to the plant. Among others, it sponsored an exhibition titled The Art of the Enlightenment at the National Museum of China in 2011, worked with director Wang Chaoge on Impression on Chinese Music this year and has organized the BMW Culture Journey for eight years.
The journey has taken trips to 21 provinces and municipalities as BMW donated a total of 8 million yuan ($1.3 million) to protect the nation's cultural legacy
"As more and more young people leave the village where their families have lived for many generations, many forms of ancient craftsmanship and ethnic art are gradually fading away from public view," said Kastner.
Joining the trips for the past five years in a row, he said he finds the history, culture and art of the ancient land fascinating.
Though he has financial background, Kastner continues the connections with art he established in childhood.
"I was not born into a family of artists, but my dad loved painting, so I developed an interest in art when I was a kid," he said.
He shows enthusiasm for a large number of art forms, ranging from music and painting to design and architecture. His photographic work is displayed together with professional photographs at the Tiexi plant.
"Art is part of life," said Kastner, adding that even now he occasionally spends an hour or two enjoying paintings or music despite his busy work schedule.