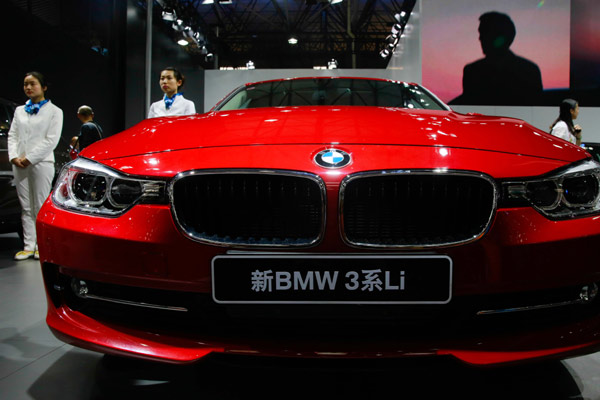 BMW 3 Series at an international auto show in Nanchang, Jiangxi province. [Zhang Haiyan / China Daily] 
German automaker BMW is placing more importance on sustainable development as it adapts to slower economic growth in China.
"In this condition speed is no longer the only performance indicator and every business entity in China must adjust its development plans based on sustainability and carry out responsible business operations," said President and CEO of BMW Brilliance Olaf Kastner.
He also urged businesses to consider their impact on nature, people and the environment.
"What we frequently experience in air quality out on our roads is an alarming situation which cries for dramatic changes in our overall thinking and action."
Kastner made the remarks at the 2014 BMW Sustainability and Corporate Social Responsibility Forum held at the automaker's joint venture in Shenyang, Liaoning province, in late October.
BMW Brilliance released its 2013 sustainability report and also announced at the forum that it became the first joint venture in China's auto industry to join the UN Global Compact.
Initiated by former Secretary-General Kofi Annan in 2000, the UN program encourages businesses worldwide to adopt sustainable and socially responsible policies and to report on the implementation.
Kastner said producing quality cars and creating positive economic benefits is important for automakers but "to realize cleaner and more efficient energy use is a key strategy which we must follow if we are to realize sustainable mobility".
A leading company in technological innovation and sustainable mobility, the automaker has come up with a wide range of environmentally friendly technologies including BMW EfficientDynamics.
Statistics show the technology has helped drive down average fuel consumption in BMW's entire fleet by 30 percent.
Several of its models emit less than the European Union target of 120 grams per kilometer of carbon dioxide and another 25 percent will be cut by 2020, according to the company.