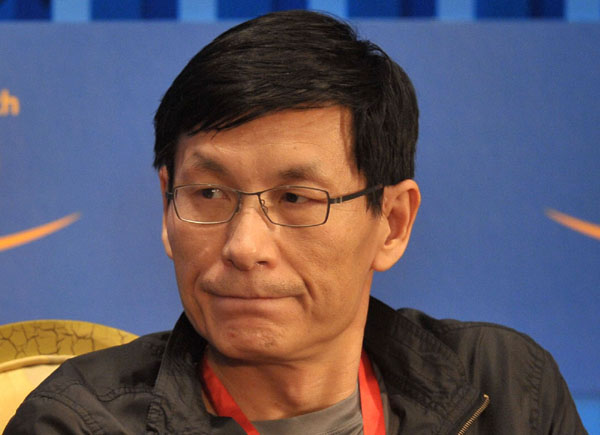 Zhu Yunlai, former CEO of China International Capital Corp Ltd. [Photo provided to China Daily]
Zhu Yunlai quits to pursue fresh options in Internet-related business
Zhu Yunlai, the son of former premier Zhu Rongji, has resigned from his post as the chairman and chief executive officer of China International Capital Corp Ltd, one of the country's top investment banks, the company said on Tuesday.
The board of directors approved Zhu's resignation and appointed Lin Shoukang, chief operating officer, as acting CEO, the company said in a press release.
Zhu's departure came amid rumors that CICC will float shares in Hong Kong. It is being speculated that Zhu's resignation may delay the listing, which could be valued at more than $3 billion, Bloomberg News reported, citing people close to the situation. But the company declined to comment.
It is unclear who will replace Zhu as chief executive. Media reports said that the company has already set up a recruiting team to conduct a global search.
Zhu, 57, will likely start his own business in the Internet sector, because he has expressed an interest in online finance, the Securities Times reported.
Zhu's resignation comes as CICC is struggling to maintain its lead in underwriting the overseas issues of Chinese companies, a major source of its revenue. It is facing increasing competition from domestic investment banks CITIC Securities Co and Haitong Securities Co. And its IPO revenue took a hit after mainland regulators suspended IPOs by Chinese companies in 2012.
CICC was ranked fifth in terms of investment banking in 2013, losing its top position as an underwriter, according to the China Securities Industry Association.
As of June this year, it had completed 110 IPOs for Chinese companies, helping raise a total of $230 billion, according to media reports.
In Hong Kong, the ranking of CICC's underwriting business dropped to sixth place this year, falling behind Goldman Sachs Group Inc, HSBC Holdings Plc, CITIC Securities Co Ltd, UBS AG and Bank of China Ltd, according to the Wall Street Journal.
Founded in 1995 by Central Huijin Investment Ltd, an investment arm of China's sovereign wealth fund acting with US-based investment bank Morgan Stanley, CICC made its name in the industry by underwriting huge IPOs by State-owned companies.
Some of the firm's highest-profile IPOs include the $22.1 billion listing by Agricultural Bank of China Ltd in 2010 and the $21.9 billion listing by Industrial & Commercial Bank of China Ltd in 2006.
Zhu, also known as Levin Zhu, started his career at CICC in 1998.
"Opinions about him within CICC have been mostly positive," said a former employee.
Zhu's departure from CICC followed a wave of staff reshuffles at the bank. Peng Wensheng, former chief economist, resigned last week and went to work at rival CITIC Securities.
People with inside knowledge said that there seems to be no direct connection between Zhu's resignation and the recent anti-graft campaign, which also targets investment banks that are involved in hiring the offspring of high-ranking officials.
New start for top banker
Zhu Yunlai was born in 1957 in Changsha, Hunan province, the eldest son of former premier Zhu Rongji.
From 1977 to 1981, Zhu studied at the Nanjing Institute of Meteorology. After graduation, he worked at the China Meteorological Administration in Beijing.
In 1994, he earned a doctorate in meteorological science from the University of Wisconsin-Madison. In 1996, he received a master's degree in accounting from DePaul University in Chicago and joined Credit Suisse First Boston as an associate in New York.
In 1998, he started his career at China International Capital Corp and was later appointed as the chief executive.