Renminbi is on track to be one of world's reserve currencies as payments worldwide using it nearly tripled in value in the past two years ending in August, according to SWIFT, an international banking transaction service company.
Since the launch of offshore renminbi (symbol CNH) there has been phenomenal growth in the market as offshore deposits in Hong Kong amounted to about 830 billion yuan ($135 billion) by the end of 2013.
An increased recognition of renminbi as a global investment currency is expected to mark the next chapter of its internationalization.
So here are top five renminbi-denominated offshore investments based on their popularity.
5. Dual-counter traded equity
Hopewell Highway Infrastructure, a Hong Kong listed Chinese company, debuted with the first renminbi-traded equity outside Chinese mainland in 2012 by introducing a dual counter model where shares can be traded in renminbi and Hong Kong dollar respectively. The renminbi and Hong Kong dollar counters have different stock codes and are fully transferable.
Hong Kong Exchanges introduced its first dual counter, the renminbi- and Hong-Kong-dollar-traded Harvest MSCI China A Index ETF earlier in the same year.
Now after a two-year "silence" since the first two, the market expects Shanghai-Hong Kong Stock Connect to ramp up and attract more dual-counter issuances in response to an increasing need of renminbi investment.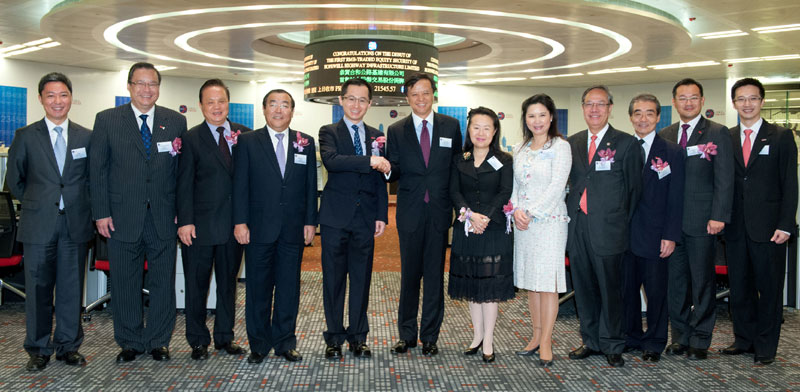 renminbi-traded equity of Hopewell Highway Infrastructure Limited debuts on the Main Board of Hong Kong Exchanges, Oct 20, 2012. [Photo/ HKEx]