Top 10 secrets inside Xiaomi's marketing
It took Xiaomi only four years to grow from scratch into the world's third-largest smartphone vendor. Behind the success, marketing is believed to play a crucial role.
The company had 5.6 percent of the global market in the third quarter, the first time it entered the world's top three along with Samsung and Apple, reported Bloomberg citing data compiled by Strategy Analytics in October.
Lei Jun founded Xiaomi to develop software for mobile devices running the Android OS in 2010, a year before the company introduced its first smartphone.
The brand has since scooped mass users in China with its inexpensive devices and unique marketing approach.
Li Wanqiang, one of the founders and vice president of Xiaomi, spilled the magic in his latest book entitled Sense of Participation: Internal Handbook of Xiaomi's Word-of-Mouth Marketing.
Let's take a look at the top 10 secrets compiled by Li in no particular order.
10. To output stories and topics
A good product needs to be output as appealing topics and stories, so when Xiaomi launched its smartphone, the company "interpreted" the new products into three main points, namely fast, good-looking and open.
It takes only two steps to text frequent contact person via a Xiaomi cellphone. Users can program their own mobile theme and enjoy customized system in Spanish and Portuguese, which enable enthusiasts to further develop their cellphones and tout its uniqueness.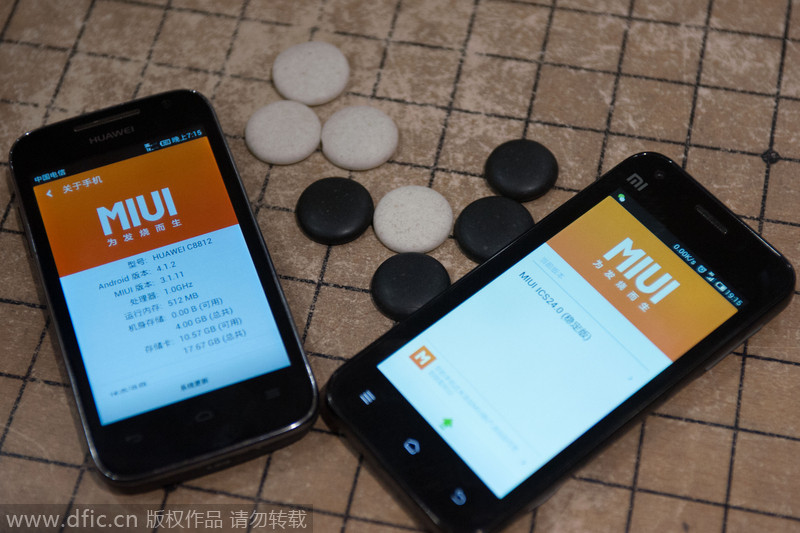 View of Huawei C8812 and Xiaomi M1 phone with MIUI ROM, an Android adapted operating system developed by Xiaomi, Aug 12, 2013. [Photo/IC]