President Xi Jinping said during the Asia-Pacific Economic Cooperation meeting in Beijing on Nov 9 that the number of outbound tourists from China will exceed 500 million in the next five years. By then, more than one third of Chinese will travel overseas each year.
The year 2014 also means a lot for China's tourism industry as the number of outbound tourist departures from the Chinese mainland has exceeded 100 million within a calendar year for the first time, according to China National Tourism Administration.
While the growth pie is big and luring, the road to a slice of it might be thorny and costly for China's online travel agencies (OTAs).
Analysts have predicted that China's OTAs have entered an "industry-wide loss-making era" as Ctrip.com, the largest Chinese online travel agency by market capitalization on NASDAQ, predicted it would make a loss of more than 400 million yuan ($64.6 million) in the fourth quarter of this year. The other three Chinese OTAs, which are also listed on NASDAQ, have already announced losses for the third quarter of this year.
Even under such a difficult circumstance, online travel agencies, listed or hoping to be listed, have waged a price war for the upcoming Double Twelve tourism promotion festival on Dec 12. This festival is also a key occasion "created" by travel companies to stage the year-end promotion, similar to the "Single's Day" shopping festival of the online retail industry on each year's Nov 11.
Let's take a look at the major "warriors".
Ctrip.com
Liang Jianzhang, CEO of Ctrip, announced on Dec 3 that the company would spend 1 billion yuan in the price war, rolling out 10 million products with zero profit.
For the Double Twelve festival specifically, the online travel agency has rolled out a "travelling around the globe by spending only one yuan" program. There are 16 overseas tourist destinations for prospective vacation-takers to choose. A total of 12,120 persons can be the lucky ones to win this "one yuan ticket".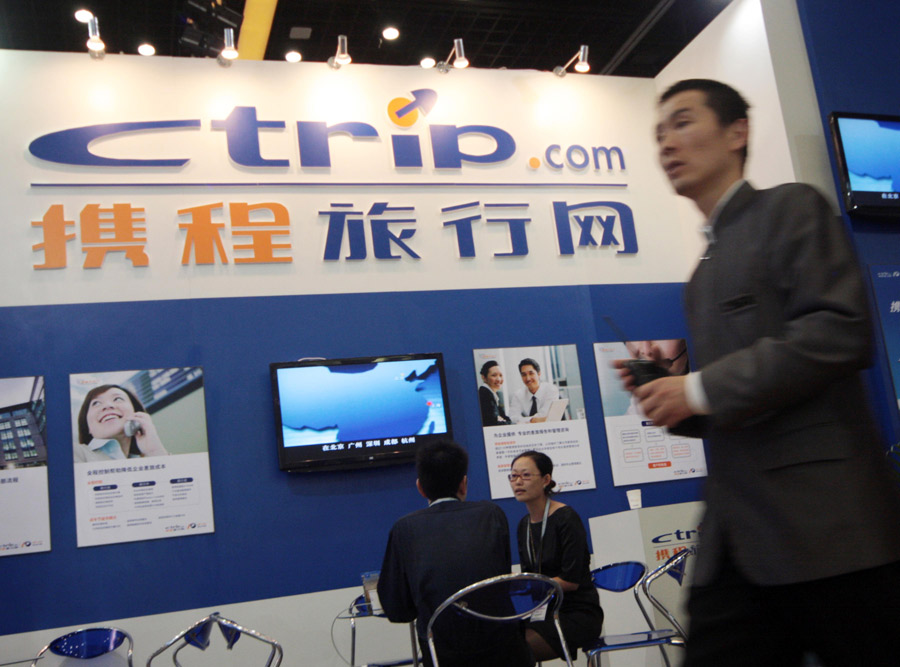 A stand of Ctrip.com at an expo in Beijing on Sept 8, 2009. [Photo by Wu Changqing/Asianewsphoto]