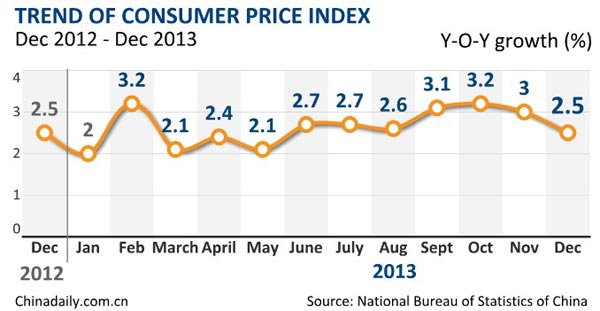 BEIJING - Thursday's figures showed China's consumer price index (CPI) inflation rose lower than expected in December to a seven-month low.
December's CPI - a main gauge of inflation - rose 2.5 percent year on year, down from 3 percent in November and 3.2 percent in October, the National Bureau of Statistics (NBS) said.
Analysts maintained that falling CPI readings and modest inflation pressure will allow policymakers to continue focusing on policies to support growth while implementing structural reform measures this year.
Lower inflation might give the People's Bank of China (PBOC, central bank) some room to ease the liquidity situation and to tame rising interbank lending rates, they said.
Food price deceleration
According to NBS, last month's inflation was 2.5 percent in both cities and rural areas. Food prices, which account for roughly a third of CPI, rose 4.1 percent in December from a year ago, while non-food products edged up 1.7 percent.
In the category of food, fruit, aquatic products, grain, pork, beef, mutton, milk and fresh vegetables all rose year on year in December. Fruit prices led the charge by jumping 15.6 percent from a year ago. Both egg and edible oil prices contracted by 4.1 percent year on year.
Rents went up 4.7 percent year on year last month. Prices of telecom equipment dropped notably by 6 percent from a year ago.
On a month-to-month basis, December CPI edged up slightly by 0.3 percent from November. Food prices increased 0.6 percent from November while prices of non-food products were up 0.1 percent.
For the whole of 2013, CPI inflation averaged 2.6 percent year on year, unchanged from 2012, and well below the government's target of 3.5 percent which was published in March of 2013, according to the NBS.
The producer price index (PPI), which measures inflation at the wholesale level, fell 1.4 percent year on year in December. Annualized PPI for 2013 fell 1.9 percent year on year, NBS data showed.
Lu Ting and Zhi Xiaojia, China economists with Bank of America Merrill Lynch, said December CPI inflation fell more than expected to 2.5 percent year on year, lower than market expectations of 2.7 percent.
The lower-than-predicted CPI was due to lower food inflation, as this fell to 4.1 percent from 5.9 percent in November, Lu and Zhi said in a research note.
Notably, fresh vegetable price inflation slumped to 2.6 percent in December from 22.3 percent in November, contributing eight basic points to the 2.5-percent CPI in December, compared to 59 basic points to the 3-percent CPI in November, they said.
Meat price inflation fell to 3.6 percent year on year from 5.5 percent in November. Within the meat category, pork price inflation dropped to 1.6 percent from 5 percent the previous month.
Favorable to policymakers
Lu and Zhi believe that subdued inflation would be supportive of a neutral monetary policy rather than tightening.
"A well below 3-percent CPI inflation could be good news for the markets as monetary tightening is not justified.
"Lower inflation could give the PBOC more room to ease the liquidity situation and to tame rising (interbank) rates," they said.
For 2014, they forecast CPI inflation to be slightly higher but remain tamed at an annual average at 3.1 percent, due partly to base effects.
HSBC chief China economist Qu Hongbin agreed.
Qu expects China's broad-based inflationary pressures to remain modest in 2014 despite the likely seasonal spike of food prices approaching the Chinese New Year, which falls on Jan 31.
Modest inflation pressure in 2014 could provide ample room for the deregulation of resources and utilities prices, as outlined in Beijing's reform agenda, Qu said.
Restructuring industrial sectors plagued by overcapacity was selected as one of the key reform tasks in 2014 by the Central Economic Work Conference, which was held last month, he said.
Qu also expects the Chinese central bank to keep the status quo of monetary policy in place over the coming quarters.
Chang Jian, chief China economist at Barclays, said in a research note that she expects China's CPI inflation to move back above 3 percent in the first half of 2014, though the near-term inflation outlook appears benign given contained food prices and moderating growth momentum.
Rising labor costs, continued deregulation in factor and resource prices, and a less favorable pork cycle and base effect will likely add to inflation later this year, she said.